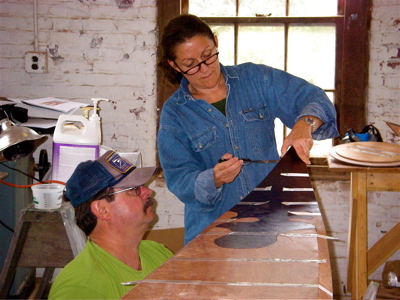 Turn plywood into a beautiful sea kayak in 6 days
Sea kayaking is the sport of taking a small boat out on to the big ocean. You could buy an ordinary plastic kayak, or you could build your own which will be lighter, faster and more fun than buy. It will also be more beautiful.
A unique feature of the Night Heron is the "puzzle boat" construction.The short pieces of plywood are joined together with a puzzle joint to make the full 18' length of the kayak. The different pieces of plywood are stained different colors creating a beautiful graphic contrast highlighting the puzzle joint.
This fast-paced class will take students through the major phases of building a "Night Heron" sea kayak. Using the "Stitch-and-glue" construction method, each student will go home with his or her own kayak. Some finish work will be required when they get home. Students will learn basic boatbuilding skills as well as how to work with fiberglass and epoxy. Students should expect several long days in order to get through all the steps that must be completed in a day.
Please look at the class syllabus to get a feel for what is involved and also take a look at the required tool list.
Part of the fun of this design is you can personalize your boat by staining the various parts different colors. It is worthwhile having some ideas about colors prepared before starting the class.