"The Chestnut 50-lb. Special has been designed to meet a certain demand for an extremely light weight canoe of good carrying capacity and has proved very popular. Owing to its width and flat bottom it is very steady and the ends are low, making it easy to portage through the brush." ...from the 1950 Chestnut Canoe Co. catalogue.
Over seventy years later it is one of their better known models, favoured by fishermen and solo trippers. The moderate rocker and soft bilges make this a great canoe for traditional style solo paddling. The Bob's Special is also a good choice if wind is a regular feature of where you paddle, as the low ends are less affected by windage.
Small enough to use setup as a solo canoe, yet large enough to work well as a tandem, the Bob's Special is really the epitome of what a small canoe should be. This is a canoe to go out at the crack of dawn before the mist burns off the lake, slide into your favorite fishing hole and wet a line. Or maybe you and your significant other will head out after dinner to listen to the loons and watch the sun set. Yet all these seductive, calm water visuals doesn't mean it wouldn't be happy to splash a cross a lake if the wind comes up.
The plans were adapted from the original Chestnut lines by Steve Killings for Bear Mountain Boats. In order to adapt to strip planking, some modifications to the original lines have been made. A shoe keel was recommended on the original canoe because of the light weight ribs and planking. Since they are not saying it is for directional stability, we can assume that the keel is optional.
Included in the Plans:
Three 24" x 36" [61cm x 91cm] Drawing Pages including: An overall drawing, a full size form or mold station drawings showing all the sectional forms and the end/stem forms. One half of each mold station is provided. You will trace one side on your form material and then flip over the pattern and trace the other side.
Build a Bear Mountain style Canoe: This 32 page illustrated booklet from written by Ted Moores, for WoodenBoat Magazine describes the process of building a Bob's Special cedar strip canoe.
Recommended Manual:
CanoeCraft - Ted Moore's bible on wood strip canoes goes into the building process in great detail.
Body Plan Drawing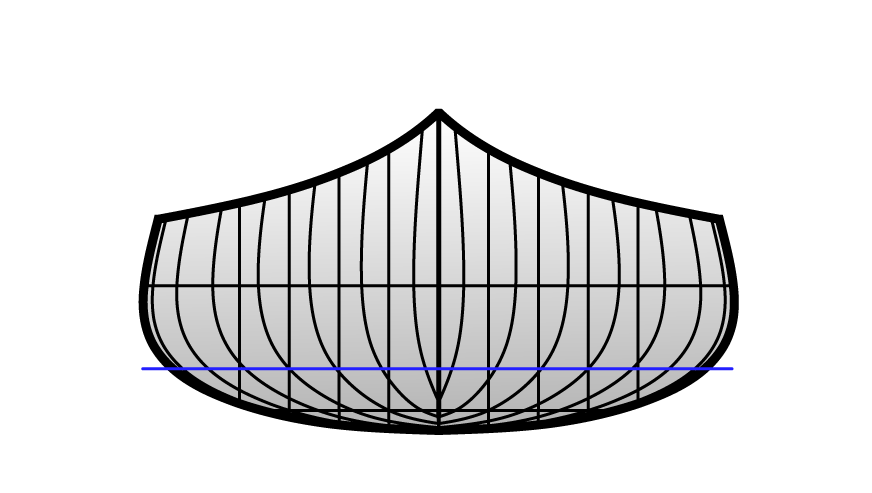 Profile Drawing

Plan (Top View) Drawing