The Chestnut Canoe Company built this "workhorse of the North" to meet the specific needs of the prospector - good maneuverability through whitewater and wilderness, with capacity to carry substantial loads. The 16' Prospector features a flattened, shallow arch hull with its fullness carried into the bow and stern, good depth amidships to maintain freeboard and deepened ends to keep paddlers and gear dry. The rockered keel-line makes it very maneuverable in whitewater.
This was the favoured canoe of the late Bill Mason, Canada's premier paddler and has become an iconic design for classic whitewater canoes, built by many canoe manufacturers in everything from vacuum formed plastic to carbon fiber. Whether dealing with raging whitewater or crossing a windswept lake, it is hard to go wrong with this classic design.
Included in the Plans:
Three 24" x 36" [61cm x 91cm] Drawing Pages including: An overall drawing, a full size form or mold station drawings showing all the sectional forms and the end/stem forms. One half of each mold station is provided. You will trace one side on your form material and then flip over the pattern and trace the other side.
Build a Bear Mountain style Canoe: This 32 page illustrated booklet from written by Ted Moores, for WoodenBoat Magazine describes the process of building a cedar strip canoe.
Recommended Manual:
CanoeCraft - Ted Moore's bible on wood strip canoes goes into the building process in great detail.
Body Plan Drawing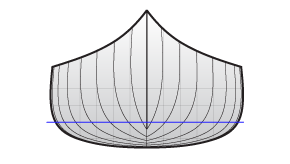 Profile Drawing

Plan (Top View) Drawing