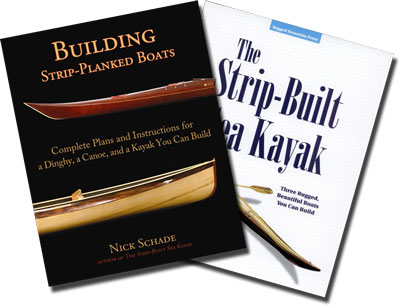 Nick Schade has been building boats using the strip-built (aka strip-planked) method since 1983. Over the years he has learned a lot about the intricacies of the process by trial and error. If he can figure it out that way, so could you, but you don't need to as he has put most of what he knows into two books.
One reader says: "This is the book that made wooden boats possible for me." The Strip Built Sea Kayak  has become the bible for building high quality wooden kayaks. The same reader continued by saying:
This is the best "how-to" book I've read. Five months ago I had two plastic kayaks and knew absolutely nothing about kayak-building. I bought this book, after wandering into Nick's website. Now I'm starting my second wooden kayak and contemplating a lineup of other wooden boats to follow.
---
Extending the techniques described above to other small boats. Called "A comprehensive guide to strip-plank boat building." by a reader, this book delves deeper into the techniques for making beautiful and practical small wooden boats.
Nick's 11 more years of experience are put into this book! a lot of little tips that can help any one building small wooden boats i wish it had three more kayaks but i guess a canoe and a pram is appealing to a larger crowd... don't miss this book and if you have'nt read the first book order them both they are a must for anyone in love of building their own small wooden boats.