Back when I was designing the original Petrel I almost made it 14 feet long. For many paddling trips 17 feet is longer than necessary. A shorter boat can be more responsive, lighter, easier to store, and still paddle fast enough to get where you want efficiently and comfortably. At the time I decided I wanted the greater speed and tracking of the longer design, but the idea of a short play boat stayed on my mind.
When I decided to make a stitch and glue plywood version of the Petrel I decided to revisit the idea of the 14' recreational/play kayak. I had the time and it was still a boat that I wanted. The result is the Petrel "Play", a 14' x 23" kayak. This is a versatile design, suitable for a novice paddler who just wants a stable, easy to paddle kayak as well as the more experienced paddler who wants a responsive and maneuverable boat for playing in surf or rock gardens.
This boat can be built with full rubber-style hatches that are recessed to minimize spray and offer rugged, business-like look. Based on my Petrel design it maintains its transitioning chine that starts out soft and multi-chined at the bow and becomes hard and single chined at the stern. It is a stable design that is still fast enough to keep up with most full length sea kayaks as long as you don't want to race.
Included in the Plans:
Eight 24" x 36" [61cm x 91cm] Drawing Pages plus 3 Full Length Panel Patterns including: An overall drawing, patterns for recessed hatches and cockpit, and forms. The long panels assume you will pre-scarf long pieces of plywood and then trace the full size patterns on to those long blanks
Building Petrel SG & Petrel Play SG: This complete instruction manual written by Nick Schade and supplemented with help from the folks at CLC guides you step by step through this amazing build process.
---
Body Plan Drawing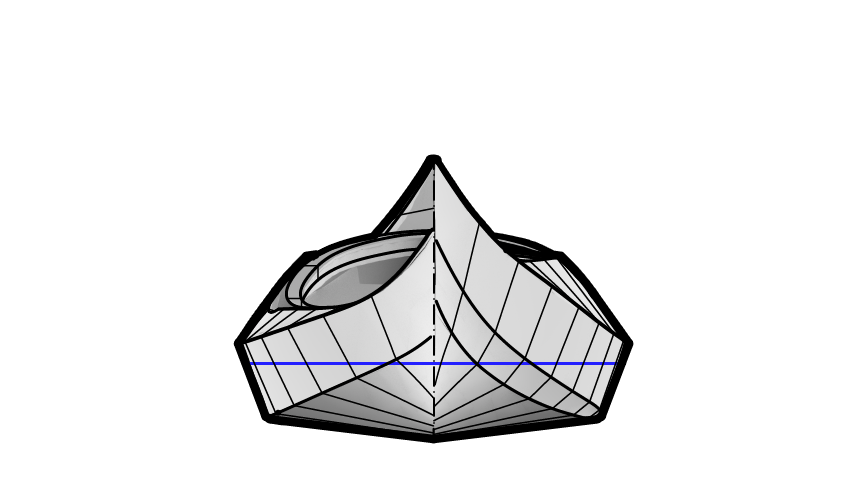 Profile Drawing
Plan (Top View) Drawing