I've been paddling my strip-planked Petrel for years in all kinds of conditions from relaxing explorations of quiet little coves to getting beat up by hurricane surf and tidal races. The boat has served me well and I get a lot of feedback from other Petrel builders and users who find the kayak helps make them feel like better paddlers. As a result I also get a lot of people asking about a stitch and glue version. For many people, the hours involved in building a strip boat just does not fit into their lives. I finally found time in my own schedule to do something about it.
The stitch and glue Petrel is a full-on high performance sea kayak that can be built with all the features paddlers expect from a modern sea kayak, including super-waterproof rubber hatches, including a day hatch. The hatches are recessed to minimize spray and easing rescue techniques. The day hatch is separated from the seating area with a sloped bulkhead to ease emptying water from the cockpit. It can also be built with a very reliable retractable skeg. The skeg is offset from the centerline to virtually eliminate jamming and is reliable, efficient and easy to adjust.
Like the strip version, the S&G Petrel has a transitioning chine, soft in front to hard behind. This is accomplished with a multichined, 3-panel per side bow and a hard chined 2-panel per side stern. This allows for responsive control surfing, with less a tendency for the bow to lock in, and softer landings going up through waves.
While I was at it I designed and built a 14 foot recreational kayak based on the same design.
The S&G Petrel is a sophisticated design that is not the easiest to build but the complexity pays off in the paddling. But the S&G version is much quicker and easier to make than the strip version. The boat works well as long distance touring kayak for smaller paddlers or a day/overnight boat for larger paddlers.
Included in the Plans:
Nine 24" x 36" [61cm x 91cm] Drawing Pages plus 3 Full Length Panel Patterns including: An overall drawing, patterns for recessed hatches and cockpit, forms and a retractable skeg. The long panels assume you will pre-scarf long pieces of plywood and then trace the full size patterns on to those long blanks
Building Petrel SG & Petrel Play SG: This complete instruction manual written by Nick Schade and supplemented with help from the folks at CLC guides you step by step through this amazing build process.
---
Body Plan Drawing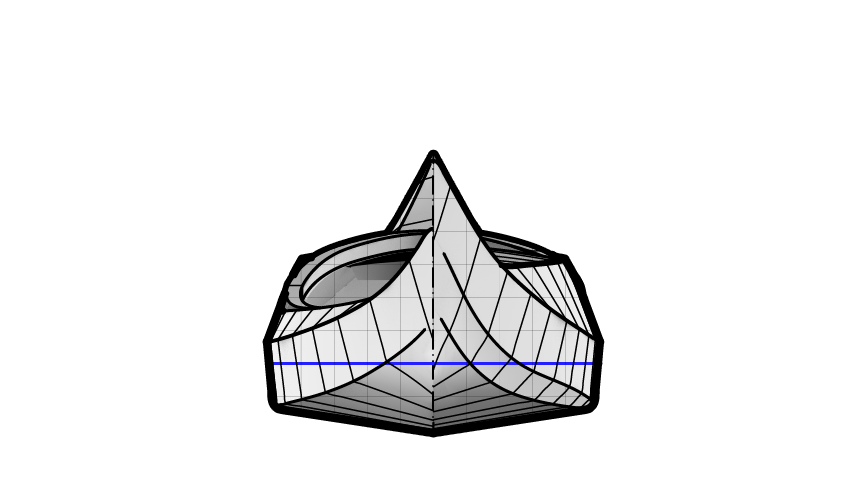 Profile Drawing

Plan (Top View) Drawing