Like the strip version of the Night Heron, this S&G version is at home out on the open water and exploring the shores of distant islands. As drawn, it has the exact same profile shape of the lower deck version of the strip-built Night Heron. As built it tends to track a little more stiffly due to a slight sharper "V" at the stem and stern. Due to the plywood construction this version has the more defined "hard" chine than the strip version. This makes the boat a little more responsive to edged turns. Otherwise the performance of the different version of the Night Herons are all quite similar.
The "chine" on the foredeck provides clearance to keep your paddle stroke entry close to the boat while paddling with a high or low paddle angle. It also provides room where you need it for your knees and feet.
The picture above shows the "Puzzle Boat" configuration where instead of traditional scarfs joining the panels a puzzle shaped connection is used. This option is only available in the kit. If you are building from plans, you will want to use standard scarfs to make the long plywood panels.
Included in the Plans:
Four 24" x 36" [61cm x 91cm] Drawing Pages plus 2 Full Length Panel Patterns including: An overall drawing, patterns for the bow hatch, twist-lock stern hatches and cockpit, and forms. The long panels assume you will pre-scarf long pieces of plywood and then trace the full size patterns on to those long blanks
Building Stitch and Glue Night Heron This complete instruction manual written by Nick Schade and supplemented with help from the folks at CLC guides you step by step through this amazing build process.
---
Body Plan Drawing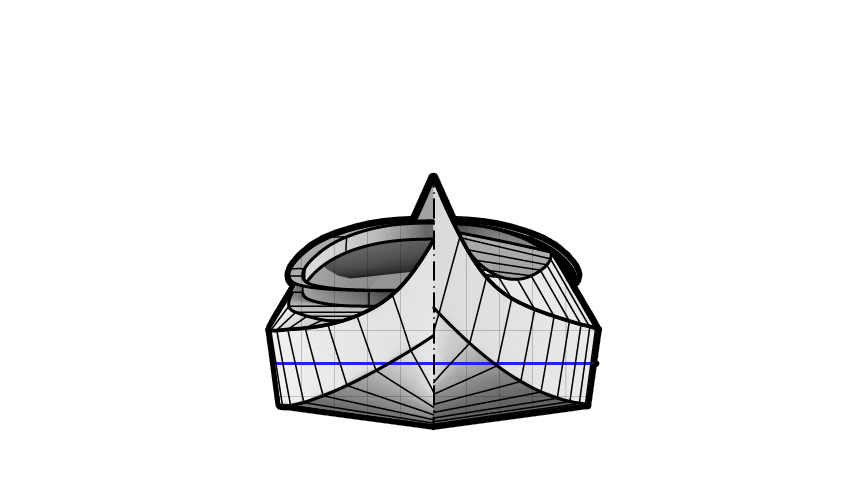 Profile Drawing

Plan (Top View) Drawing