The Night Heron line is an evolutionary branch of the Guillemots, but I took a look back at Greenland Inuit boats for some of my hull shaping inspiration. This boat brings the volume of the hull out towards the ends more for a higher prismatic coefficient. This gives it good efficiency at faster speeds. It has fairly hard chines with no concave sections. A slight lean will allow the boat to turn easily. The low back deck permits the paddler to easily lean back so their head touches the back deck. The foredeck is high enough that most paddlers will be able to get there legs in and out whiled sitting down. If you need more room for your legs you can look a the High Deck Night Heron.
This boat has been widely admired for its beauty, with an example accepted in the permanent collection at the Museum of Modern Art, but that does not detract from its on the water performance where it is fast and efficient and surfs very easily. It is a secure boat in rough water and responds well playing in the surge of rock gardens. Read Mike O'Brien's review of the Night Heron in Small Boats Monthly.
At 20" wide this is a narrow boat, however it is not scary to paddle. Even novice paddlers quickly get comfortable. The boat tracks well with good balance and is quite fast. It is very easy to roll and perform various braces.
For those wanting a super low-decked rolling machine suitable for all the lay-back style rolls I have drawn up a "Greenland Styled Deck" for the Night Heron.
The plans for this boat include the lines for the High Deck Night Heron as well.
Included in the Plans:
Eight 24" x 36" [61cm x 91cm] Drawing Pages including: An overall drawing, a full size "stacked" form drawing showing all the forms and then all the forms drawn individually and at full size. Also included are templates for the cockpit and coaming recess parts. Lines for both the standard and the high deck version are included.
Kayak Building Notes: These notes provide supplemental information such as bill of materials for each design.
Recommended Manual:
---
Body Plan Drawing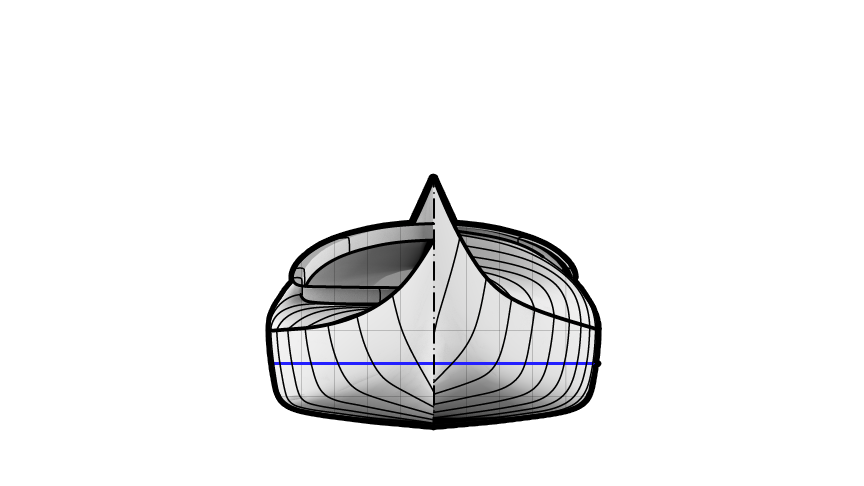 Profile Drawing

Plan (Top View) Drawing