By stretching out the Great Auk I have created a tandem sea kayak that will be comfortable for occasional paddlers while providing an efficient and capable boat for a pair of skilled kayakers. The long waterline allows a couple of strong paddlers to really step out and go fast, while the respectable volume provides enough capacity to carry gear for multi-day trips.
The Great Auk Double is a modified version of the Great Auk. It is longer and a little wider to carry the heavier load of two people plus their gear. Taking the sleek lines of the Great Auk to make a fast and comfortable tandem for intermediate paddlers. This is not just a simple stretch of the Great Auk. I have adjusted the shape to add more volume near the ends. This combined with a higher bow will help the boat rise easily over waves.
This boat fits in between the Guillemot Double and Guillemot Fast Double in terms of performance. It will be faster than the Guillemot Double because it is a little longer and narrower. This makes it a little less stable. But it is not as long or as narrow as the Fast Double.
Included in the Plans:
Eleven 24" x 36" [61cm x 91cm] Drawing Pages including: An overall drawing, a full size "stacked" form drawing showing all the forms and then all the forms drawn individually and at full size. Also included is a full size pattern for the cockpits.
Kayak Building Notes: These notes provide supplemental information such as bill of materials for each design.
Recommended Manual:
Body Plan Drawing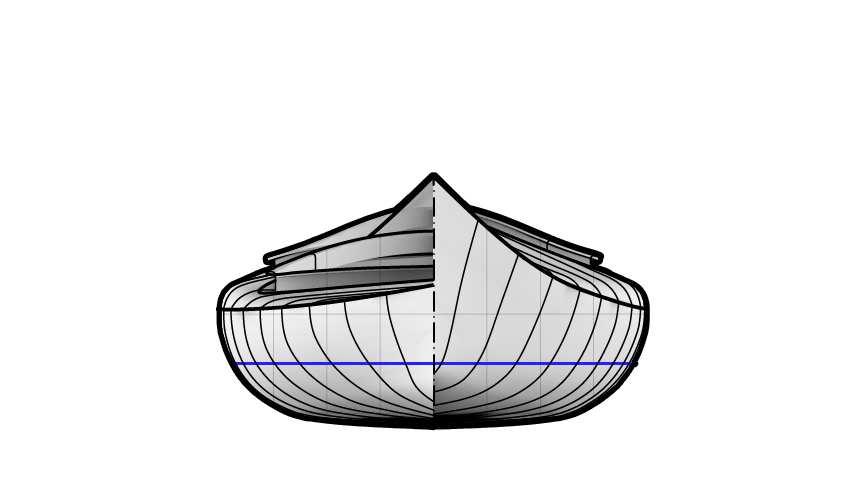 Profile Drawing

Plan (Top View) Drawing