In 1924 George Crouch designed a ground-breaking speedboat name Baby Bootlegger. Baby Bootlegger was an innovation in its time, introducing the "rolled sheer" where the deck blends smoothly into the side, and the long stream-lined stern, it was the prototype of the mahogany runabouts that became popular in the 1920's. While this may be an unexpected starting point for a kayak, the graceful, efficient shape struck my fancy.
Watch video of building the microBootlegger
In the 1880's J. Henry Rushton was at the forefront of an explosion in the popularity of canoeing. His canoes were not what we currently think of as a "canoe" instead they were generally a boat where the paddler sat down in the bottom of the boat and used a paddle with blades at both ends. Often his boats had long decks with a cockpit where the paddler sat. In other words, what most people might think of as a kayak, but are typically called "double paddle canoes.".
Taking the idea of a Rushton-style double paddle canoe and the great looking shape of the the Baby Bootlegger I developed the µBootlegger (micro Bootlegger) as a roomy, efficient tandem kayak for cruising a lake or exploring a bay. While more sedate than her namesake, she moves easily through the water and, should a wind blow in, will handle rough water with aplomb.
Drawn up with a long cockpit big enough for two, it may also be paddled solo. For the more adventurous it could also be rigged up with a rudder, lee boards, and a small sail much like the Ruston canoes were.
Included in the Plans:
Thirteen 24" x 36" [61cm x 91cm] Drawing Pages including: An overall drawing, a full size "stacked" form drawing showing all the forms and then all the forms drawn individually and at full size. Also included is a larger full size pattern for the cockpit.
Kayak Building Notes: These notes provide supplemental information such as bill of materials for each design.
Recommended Manual:
Body Plan Drawing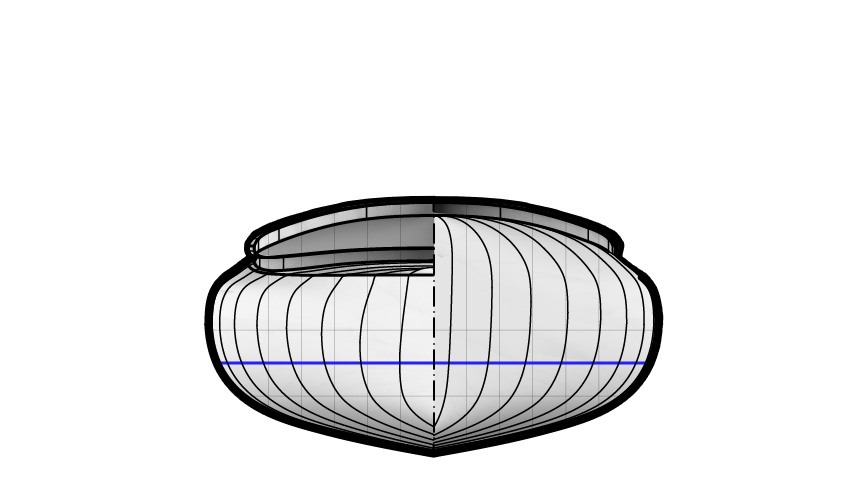 Profile Drawing

Plan (Top View) Drawing