The Great Auk is a roomy, fast and stable kayak and tracks very straight. The long water line and clean entry permits it to cut through the water with a barely visible wake. The flared bow gives a very dry ride, lifting over most waves with little effort. This is one of my more stable single sea kayaks. It is one of the easier designs to build, with a fairly simple shape. This is a good all-around boat for someone wanting a stable, efficieint kayak. This boat is designed to accept a rudder but it is not required.
Beginner kayakers will find this design to be comfortable and reliable. While not a stiff tracker, it is well balanced and with a little practice novice kayakers will be able to take this boat a long way. It will not be a design you outgrow immediately. Larger paddlers will find this design roomy and capable. It can easily carry quite a substantial load so heavier paddlers will still find it usable for multi day trips.
Included in the Plans:
Seven 24" x 36" [61cm x 91cm] Drawing Pages including: An overall drawing, a full size "stacked" form drawing showing all the forms and then all the forms drawn individually and at full size. Also included is a full size pattern for the cockpit.
Kayak Building Notes: These notes provide supplemental information such as bill of materials for each design.
Recommended Manual:
The Strip Build Sea Kayak - This book provides step-by-step instructions to build any strip planked kayak. The Great Auk design is featured in the book.
---
Body Plan Drawing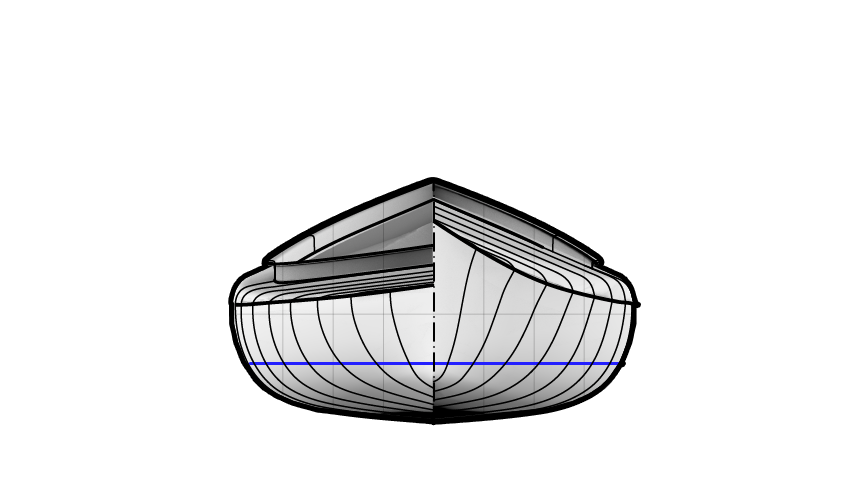 Profile Drawing

Plan (Top View) Drawing