This design is the answer to a question to myself, "What would the Expedition Single look like stretched to make a double?" It is a fast, fun boat. The width is the same as the Expedition Single at 21 inches. Although this boat may appear a little unstable, its 25' 6" length gives it good stability. This is a boat for a pair of experienced paddlers who want to paddle together but don't want the compromises of a shorter and wider double. This is not intended as a racing boat, it is a high performance touring kayak suitable for intermediate to skilled paddlers. Beginners looking for a double should look at the Guillemot Double.
This boat moves easily. It consistently does very well in races such as the Blackburn Challenge. It is a little hard to get on and off the car, but, once in the water... ... no problem. Obviously with its length it is not a quick turner, but it is quick on the straight. The two paddlers are far enough apart that they do not interfere with each other at all. One paddler can stop and not cause problems for the other. The two paddlers can paddle a different cadences if they want. The boat also rolls very easily.
Included in the Plans:
Eleven 24" x 36" [61cm x 91cm] Drawing Pages including: An overall drawing, a full size "stacked" form drawing showing all the forms and then all the forms drawn individually and at full size. Also included is a full size pattern for the cockpits.
Kayak Building Notes: These notes provide supplemental information such as bill of materials for each design.
Recommended Manual:
---
Body Plan Drawing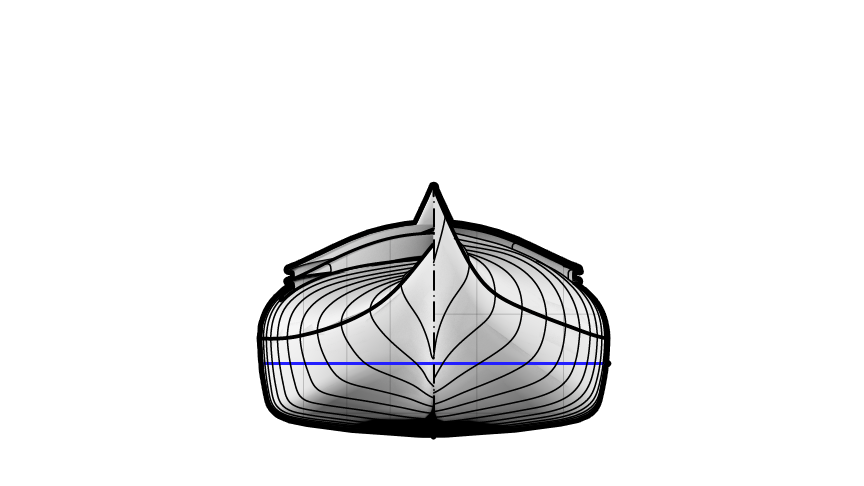 Profile Drawing

Plan (Top View) Drawing