The Guillemot is the boat I was trying to create when I first named the company "Guillemot Kayaks". I wanted a boat with good all around performance for my own use. It needed to be "sporty" with quick acceleration and maneuverability. The boat needed to be comfortable and easy to paddle to the places I wanted to be. After iterating through seven different designs this is the one I have settled on. With a shallow V bottom and moderately hard chine the Guillemot is comfortably stable and maneuverable. The volume is brought well into the ends for a smooth ride over waves. The low lines of the deck keep the boat out of the breeze for good balance in cross winds.
Beginning kayakers may find that this design "does not go straight". It is true that if you stop paddling, the boat will tend to veer strongly one way or the other, however with practice you will find that with a little practice the design tracks easily. At first it will take some concentration to hold course, but with experience the boat will respond as if it were reading your mind. It will soon react quickly and easily, going where you choose seemingly by merely thinking about it.
This kayak was originally designed for an article in Sea Kayaker Magazine and appears in my book. The book includes offsets so you should be able build this boat from the article. Look here to see pictures of the construction process. For paddlers who like this design, but need a larger boat, take a look at the Guillemot "L" which is 6% larger. Another alternative is the Guillemot Expedition Single. Smaller paddlers will want to look at the Guillemot "S" which is a 6% smaller version. It is suitable for paddlers who want a higher performance boat but find the average sea kayak too big. This kayak is also very similar to my Stitch and Glue design.
Included in the Plans:
Six 24" x 36" [61cm x 91cm] Drawing Pages including: An overall drawing, a full size "stacked" form drawing showing all the forms and then all the forms drawn individually and at full size. Also included is a full size pattern for the cockpit.
Kayak Building Notes: These notes provide supplemental information such as bill of materials for each design.
Recommended Manual:
The Strip Build Sea Kayak - This book provides step-by-step instructions to build any strip planked kayak. The Guillemot design is featured in this book.
---
Body Plan Drawing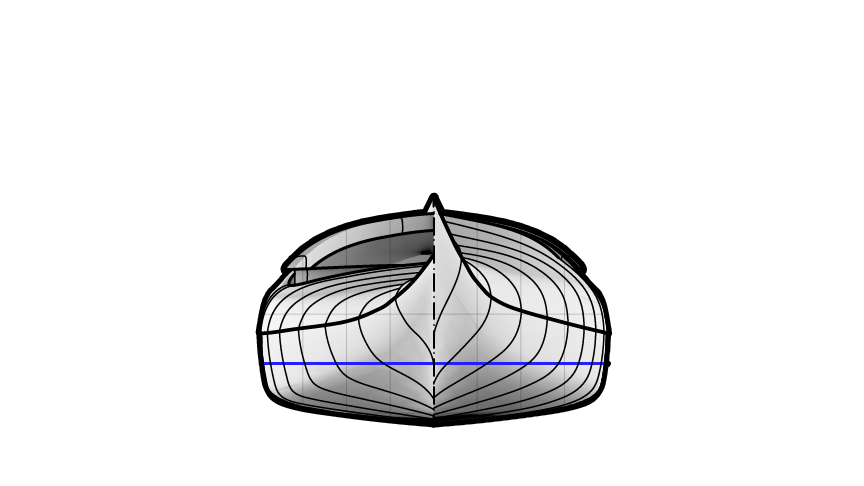 Profile Drawing

Plan (Top View) Drawing