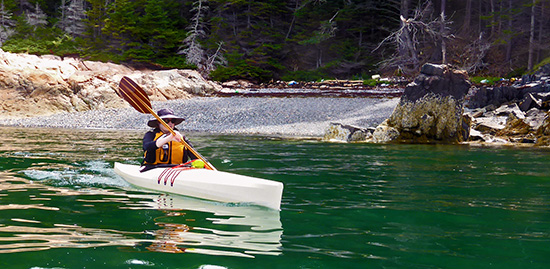 I am really pleased to offer a new class. In this class we will build the Skin on Frame microBootlegger Sport. While I do not yet offer the plans, I am able to lead people through the building of this unique, fun sea kayak.
The original kayaks created by the Inuit peoples of the Arctic were assembled from driftwood and seal skin. We will update the process with CNC-cut frames and Polyester fabric, but lashing together small pieces of wood is still a great way to quickly and efficiently construct a very capable watercraft.
The SOF microBootlegger Sport is based on my strip-built version. It is 15.5' long, 22" wide and weighs about 36 lbs. The whole kayak can be assembled in a week.
We will lash lightweight wood stringers onto pre-cut marine plywood frame using artificial sinew to make a robust frame. We will then wrap the frame in heat-shrink polyester fabric and sew it in place instead of sealskin. Finally, the fabric will be sealed with paint to make it waterproof. The result is a lightweight, flexible kayak which is strong, comfortable, fast and efficient.
At the end of the class, the kayak will be complete and ready to launch.
Schedule:
The class starts on Saturday of Martin Luther King weekend and finishes up mid-day the next Thursday.
Cost:
Tuition $795.00 (plus materials– TBD)
Location:
This class is held at the Connecticut Valley School of Woodworking (CVSW) in Manchester, CT.
Registration: