The beauty of this kayak will hit you when you first set up the station molds. It is sleek, graceful and a pleasure to paddle. Perfect for day trips or week long excursions, you will find the boat tracks well, goes fast and behaves itself in waves. Mike O'Brien, senior editor of WoodenBoat Magazine had this to say: "the sharply raked stem and well shaped forward sections will provide increasing buoyancy as the Endeavour punches into large waves. The fine run, and nearly vertical sternpost, will help ensure positive control when we are running off in a big sea (one of the scariest elements of sea kayaking). In all, this hull has a friendly and competent look to it."
This kayak will get you across the bay or lake efficiently and comfortably. With plenty of initial and secondary stability you can stay relaxed and with lots of capacity for gear you can comfortably stay away from home for a week or more.
Included in the Plans:
Six 24" x 36" [61cm x 91cm] Drawing Pages including: An overall drawing, a full size form or mold station drawings showing all the sectional forms and the end/stem forms. One half of each mold station is provided. You will trace one side on your form material and then flip over the pattern and trace the other side. Patterns for the cockpit and hatches included.
Building a Fine Wood Strip Kayak: This 33 page illustrated booklet was written by Ted Moores for his classes at WoodenBoat School. It describes his process for building a wood strip kayak.
Recommended Manual:
KayakCraft - Ted Moore's in depth book on building fine wood strip kayak. It provides all the information you need to build a kayak using the Bear Mountain Boats method.
Designed by Steve Killing for Bear Mountain Boats.
Body Plan Drawing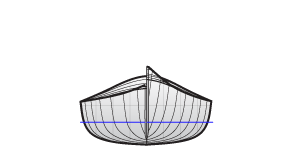 Profile Drawing

Plan (Top View) Drawing