New Plans for a Fast Expedition Sea Kayak
This 17' x 20" [5.2m x49cm] strip planked kayak is designed for comfort and speed in rough water. With a lot of capacity for gear, it can be used as an efficient expedition vessel while being fast, quick and fun as a day tripper. It will excel at downwind runs. The full-length waterline maximizes its speed potential and the shallow-V stern with hard chines provides planing and control surfaces while surfing. Substantial rocker keeps the long waterline responsive and maneuverable.
Designed to be used with a rudder, it is still well balanced so it can be paddled without the rudder. The rudder adds considerable efficiency while paddling distances, riding waves downwind, and playing in tide races and surf. The hatch recesses are intended for installation of standard rubber kayak hatches with plastic hatch rings. Drawings are included for flush wooden hatches typical of strip-built kayaks.
The prototype was built with standard sea kayak rubber hatches recessed in the deck with 4 different hatch volumes: Front, Rear, Day as well as a "Whiskey" hatch in front of the cockpit. The kayak plans include these options as well as patterns for flush wooden hatches for all the same. Also included in the plans is a recessed, deck mounted compass. Another option included in the plans is system to mount a surf-ski style footboard which adds great ergonomics for powerful paddling. 
On the Water Video
Included in the Plans:
Eighteen  24" x 36" [61cm x 91cm] Drawing Pages including: An overall drawing, a full size "stacked" form drawing showing all the forms and then all the forms drawn individually and at full size, Patterns for recessed and flush hatches,Bulkhead patterns, a recessed deck mounted compass and extensive annotation to guide you through building this sea kayak plan.
Kayak Building Notes: These notes provide supplemental information such as bill of materials for each design.
Recommended Reading:
Body Plan Drawing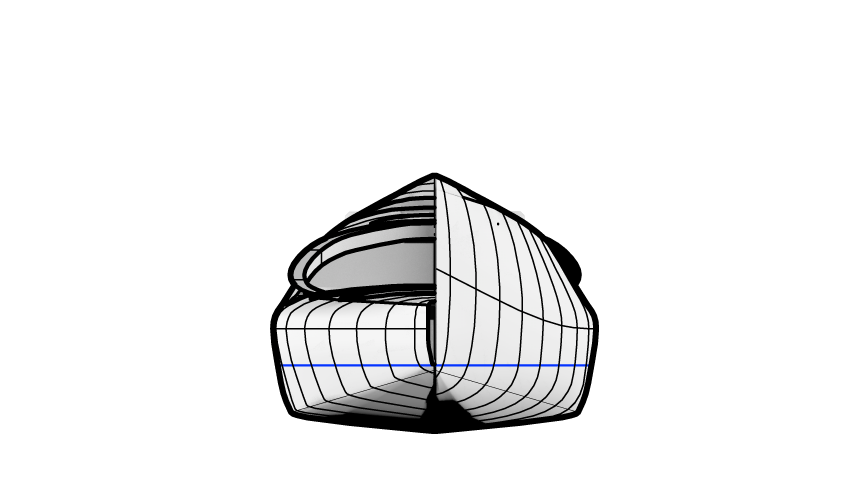 Profile Drawing

Plan (Top View) Drawing