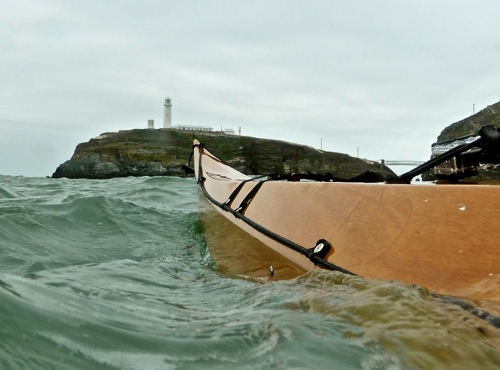 I had the opportunity this spring to go to the Anglesey Sea Kayak Symposium. Last fall Nigel Dennis invited me to attend and help with coaching. Sounded like to good a chance to pass up, all I needed was a suitable kayak. Luckily Phil Smith of Fyne Boat Kits had a Night Heron SG available, I just needed to get to their shop in Burneside, Kendal, Cumbria to get it. With plane tickets purchased I was soon on my way.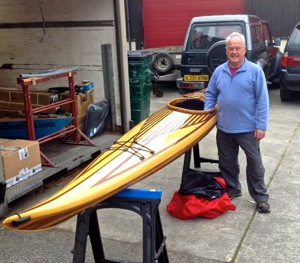 Phil met me at the train station and brought me to see the Fyne Boat Kits shop. When we got there, one of their customers, Dave Edgar, had just stopped in to show his recently finished Guillemot "S". It was an unexpected treat to see such a beautifully built kayak.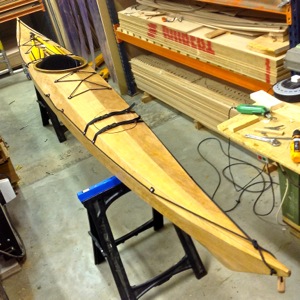 The Night Heron I was going to use needed a little outfitting to get ready for the waters of Anglesey so we spent some time fitting decklines etc. It was good to have the chance to see the Fyne Boat Kits operation in person. They have a nice set up with a large inventory of boat building supplies and a good sized CNC machine to cut precision kits.
 After a couple jet lag recovery days in Kendal, we headed down to Wales. The 3 hour drive went quickly. The headquarters for the symposium is the Anglesey Outdoor Center, a youth hostel. It was already a buzz of activity with paddlers from around the UK and Europe.
My friend Greg Paquin of KayakWaveology brought us for a tour of the SKUK factory and Rockpool Kayaks factory. It was impressive to see how many hand crafted fiberglass kayak SKUK produces and Phil and I were glad to meet Mike Webb the owner of Rockpool. Later in the week Mike gave us a few hours of his time to show us his vacuum infusion process. He is and his crew are doing a great job with state of the art kayak construction. If anyone thinks composite sea kayaks are too expensive, they really should see what goes into making first rate boats.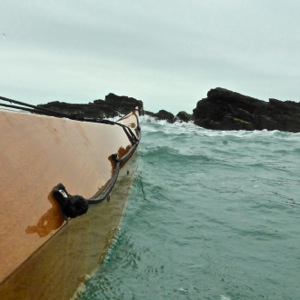 My first day on the water was going out with the Advanced Tide Race group lead by Keirron Tastagh, owner of Adventurous Experiences on the Isle of Man. This may have been a little ambitious for my first day on the water while trying a freshly outfitted new-to-me boat while recovering from jet lag. I ended up rolling a few times in Penrhyn Mawr, but eventually got used to the boat and settled down a bit.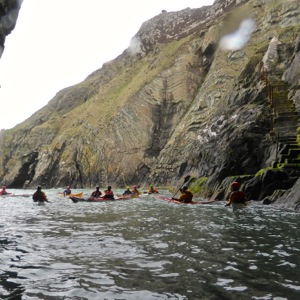 There are some fantastic caves and natural arches along the northwest shore between South Stack and North Stack. The wave surge moving through the passages made for some nice exploration.
We were worried about the southwest wind creating a slog to get back to the put in, but it turned out to not to be too bad. The day was a great introduction to Anglesey.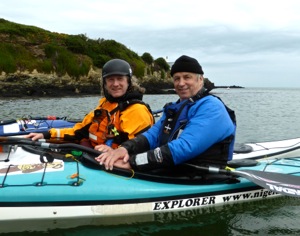 The next day, Sunday, I opted to help out on a day paddle along the north shore from Cemas Bay to Bull Bay. The group was lead by another Nigel and Pete Bray (Pete paddled solo from Newfoundland to Ireland). We headed out to Middle Mouse Island and found a bit of a tide race to play in. We then headed back to shore to explore some of the rock gardens while staying out of the continued southerly winds.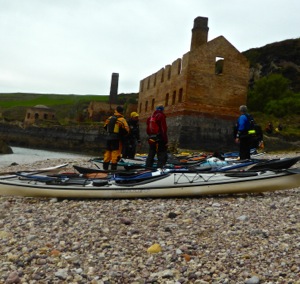 Lunch was at the old Porth Wen brick works. We sat up on the old drying floor which was raised to allow heat from the kilns to pass beneath and warm the bricks.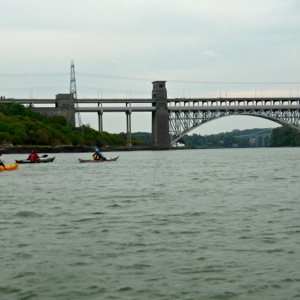 Monday shaped up to be very windy again and combined with the flood, the tide races were expected to be sloppy so I chose to help out on another day paddle on the Menai Straights. This is the tidal river that makes Anglesey an island. There can be a stiff current running through the straights and the wind tends to get funneled into its valley. We used the opportunity to practice breaking out of eddies and putting sea kayaks through some whitewater maneuvers.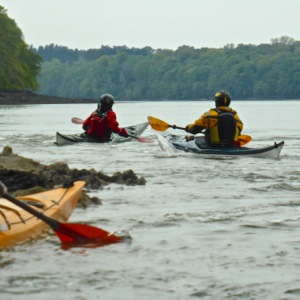 The primary coach on this day was Nico Middelkoop of Seakayak.nl an enthusiastic coach from the Netherlands.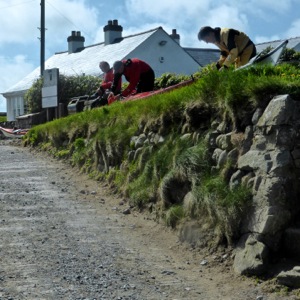 Nico thought this day was a little tame as did some of the paddlers, and I was looking for something more interesting, so we came up with a plan for a downwind run from Church Bay to Bull Bay, going out to West Mouse. This proved to have some big choppy waves and a nice bit of tide flowing past West Mouse.
On Wednesday, my last day, I wanted to get some surfing in. It looked like there might be something happening in Trearddur Bay. There wind was going to swing around from the west for awhile. There was an over abundance of coaches (4 with 5 non-coaches), but nobody complained. We started with exercises paddling out in the big waves, catching runs down between the rocks and finish with surfing into the beach.
It was a good opportunity for everyone to play around in rough water and for me to demonstrate the capabilities of the Night Heron in rough water and surfing.
The following morning I caught the ferry from Holyhead to Dublin and continued on to the airport and the flight home.
I hope I can get out to Anglesey again. The landscape is beautiful and the waters were spectacular. I am grateful to Nigel Dennis for inviting me out and allowing me to participate as a coach despite not having an BCU credentials. Thanks also to Phil at Fyne Boat Kits for allowing me to beat up his boat.
Video Impressions of the 2014 Anglesey Sea Kayak Symposium: