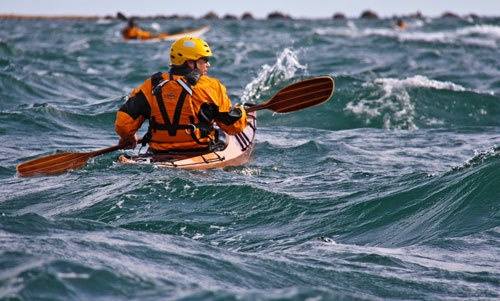 Blaine Skillings photo
For the past few years, my friends Greg Paquin and Paula Reigel (Owners of Kayak Waveology) have organized the Autumn Gales rough water sea kayaking symposium in my home waters of Fishers Island Sound. Greg is a BCU coach and he brings in other coaches from locally and abroad. This year he had Nigel Dennis, Peter Jones, and Harry Whalen from the UK as well as Carl Ladd from Rhode Island as well as local guides such as my friend Carl Tjerandsen. I was invited in the local guide capacity.
I wasn't sure what I was going to paddle at the event this year because my go-to kayaks (Petrel SG and Petrel Play SG) are currently out in Seattle being reviewed by Sea Kayaker Magazine (one of them should appear in their final issue). But, during the year I had worked on a Petrel Play at various shows and events with Chesapeake Light Craft. While I was teaching a class down at CLC in Annapolis this past October, Joey Schott, the CLC shop manager, and I decided to try to finish the Play off. Joey got the skeg box installed, I got the deck on. I did drop the boat  off the saw horses once which broke off the nose, but I glued it back on. Then I glassed the exterior of the deck. Joey took it from there and put in a bunch of late nights getting the kayak finished and ready to paddle. It still needed varnish, but that could wait.
Joey came up to Autumn Gales last year. He had been looking to up his game in sea kayaking and I suggested that it might be a good opportunity to push his limits in a supervised environment. I think he found his limits well and thoroughly pushed, but he had a great time and was eager to get back out there this year. He spent a lot of time taking a variety of training classes, both locally to where he lives in Annapolis, and down in Florida. He really wanted to up his game this year and put in a lot of effort to find "interesting" conditions around Annapolis where he could hone his skills.
Joey was going to bring the Petrel Play we worked on with him when he came up, but car troubles kept him home for the first day on Friday. Instead I paddled my old standby strip-built Petrel. Friday turned out to be a beautiful day with strong west winds and a good flood current. I went as the local guide for Nigel's intermediate group. Being the first day, they weren't quite ready to head straight into the thick of it, so we headed over to Latimer Reef Light and then cut across to the east end of Fishers Island. The current rips pretty fast through Wicopesset Passage, but the island provided some shelter from the wind, keeping the conditions from getting too gnarly.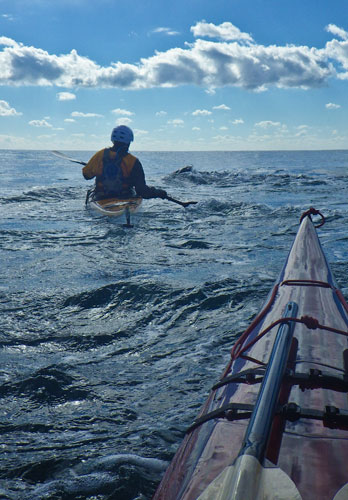 There is a large rock just to the south of the point that the current rips around and waves break over. It is good entertainment to just try and hold position over that rock with the water boiling and surging around your kayak. The group practiced playing around the rock and in the waves of the tide race
After a long day on the water we headed back into to the event home base at the New England Science and Sailing (NESS) center. This is a great facility with several large docks and a nice floating boat ramp to launch kayaks from, and inside they have a bunch of seawater tanks with fish and creatures for students to observe and study.
It has become a tradition for everyone at the event to go to the Stonington Holy Ghost Society for their Fish Fry. This is one of those great old time local institutions that just can't be reproduced. The Holy Ghost Club members fry up some great fish and scallops and serve it family style at long tables with whoever shows up. We took up one whole long table ourselves and had some great, inexpensive food.
Joey showed up back at my house quite late due to traffic through New York. With him came Blaine Skillings, another CLC employee who was going to do some photography.
The next day turned out to be another gorgeous day, with a good stiff wind again from the west, stacking up the flood at the area we call "the Cans." This is a shallow are near Wicopessett Passage where the constriction accelerates the currents and is exposed to the full fetch of the Fishers Island Sound and Long Island Sound beyond.
On a good day the waves can jack up nicely here providing steep, breaking waves and fast currents. The waves aren't huge, but they can provide some great rides and are a good environment to experience some rough water. The size of the waves are on the scale of a kayak, so the boat is constantly being tossed around.
The wave field here is big enough that quite a large number of kayaks can play simultaneously.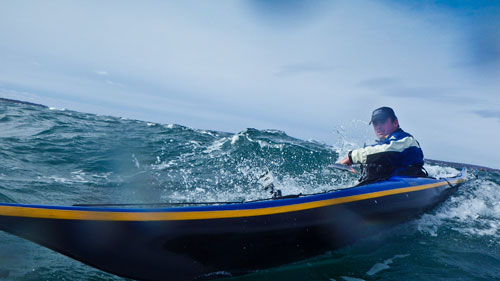 Harry Whalen Scooting Past
 This day I was guiding the "advanced" group and there were smiles all around. Greg had enlisted our friends Pete Hinch and his wife Donna to bring their boat "Eyes of the World" out to work as a photo boat. Blaine Skilings was aboard along with Glenn Charles and Ofer Cohen. Glenn is photographer and adventurer who has kayaked most of the coast of the US and Ofer is a videographer and an Independent Documentary Film Maker. Blaine and Glenn were taking stills and Ofer was taking video.
Ofer Cohen Video
It was good to get the Petrel Play out in the tidal race. I had tweeked the shape of the production kit slightly from my initial prototype and I was interested see how the changes worked out. I was happy to find the boat a little more responsive, it edged well and was quick to turn as I linked surfing from one wave train to the next. It is a lot of fun to catch a wave in strong current and start scooting forward faster than I could move the boat in flat water and just lose myself in feeling the motion of the waves as I try to anticipate where the next profitable direction will be.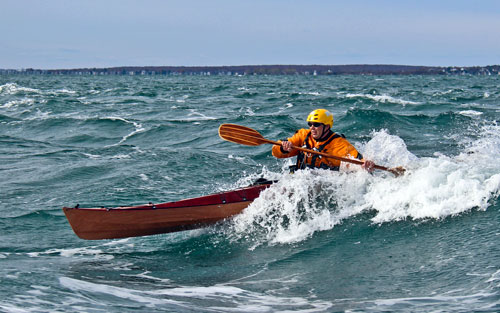 Blaine Skillings Photo
Joey was with the intermediate group over in Wiccopessette Passage paddling my brother Eric's Shearwater Sport design. Joey wanted to start out with the Shearwater because it is a great boat for playing around in waves, but a little bit more stable while he was acclimating to the conditions. All of his work over the prior year really seemed to pay off. He was much more confident in his boat and able to push harder and catch more rides.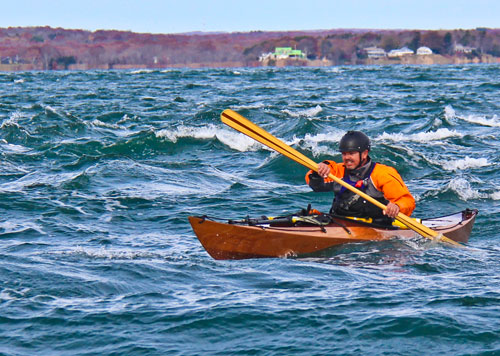 Joey in the Shearwater Sport at Wiccopesset Passage. Blaine Skillings Photo
Even though the waves help push you along when surfing, playing in rough water, accelerating to catch runs can be exhausting. We went over to Fishers Island for a break. Joey's group got invited up by the caretakers of one of the large homes for cookies and tea. After the break we went back out for a little more play. The morning had worn people out a bit so we soon headed back to Stonington.
Sunday followed with more sun in the morning and a more stiff westerly winds. I was paddling my strip Petrel again so Joey could have a go with the Petrel Play. The plan for the day was to take advantage of the strong wind with a down wind run. This of course means we needed to start out with an up wind slog. We were able to tuck in along the shore and stay out of most of the wind until we made our way up to Ram Island. We found a rocky beach on the island where everyone could pull up for a break and a bit of coaching.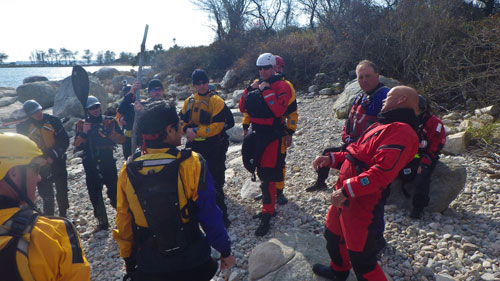 Peter Jones coaching surf techniques
After a breather we headed out to the edge of the sound where the wind was blowing hard against a moderate flood. Openwater wind waves move fast and can be hard to catch in a sea kayak. There are several areas between Ram Island and Stonington where the bottom rises up enough to accelerate the current and get the waves feeling the bottom to steepen them up a bit. For this kind of paddling, the faster 17' Petrel is better suited to catching fast moving runs than the slower 14' Petrel Play, but in the shallower areas the Play can still catch some nice long runs.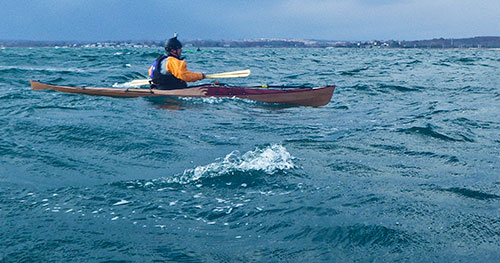 Joey running before the wind in the Petrel Play
All the sprinting to catch waves did a good job of wearing everyone out and a lot of the participants had long drives home so we pulled right in to NESS and people started packing up to go home. Joey had a 7 or 8 hour drive ahead of him but he was pumped after a couple days of exiting paddling. It sounds like he is planning on getting out more to keep honing his skills so he'll be ready for more Autumn Gales next year.
Greg and Paul have put together a great event that attracts a great crew of paddlers for a fun weekend of rough water paddling. Fishers Island Sound continues to provide exciting paddling conditions that seem to push paddlers limits. There always seems to be something happening somewhere to keep it exciting.