Just got a really nice writeup in ForbesLife magazine. They wrote a very nice, short article about my wooden kayaks, and included a picture of my Petrel design. It also includes a nice quote from Edgar Bronfman Jr. for whom I had made a Night Heron last year. Edgar said, "It's awesome to look at, and it flies."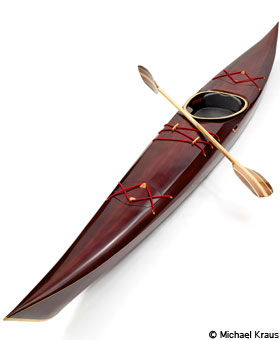 It was interesting to experience the preparation of this little piece. The writer Susan Crandell first contacted me because here husband had built a CLC kit and had an interest in wooden kayaks. She asked a bunch of questions. She eventually put together her article. The magazine then needed a photograph. I have some existing studio style photographs that I thought were quite nice, but the art director wanted something different, so she hired a photographer in NYC. So Robin and I drove 2 hours down into the city. Michael Kraus has a studio downtown, on the 10th floor of an old office building. While I told the art director that my Petrel was 17 feet long, they had not figured out how to get it up 10 flights of stairs. The boat did not make it up the first flight. Fortunately, the ground floor retail space in the building was vacant at the time so, with a couple words with the building super, we got the boat in there. Robin and I went to Burgers and Cupcakes for lunch (guess what we had), and by the time we returned the photography was done. After retrieving the car from the bowels of the parking, we drove home to await the article.
After a few months of saying the article will appear next month, I got a call from the fact checker to be sure the facts were factual. I still haven't seen the actual print version, just the online version. I can't seem to find the magazine at my local Borders.