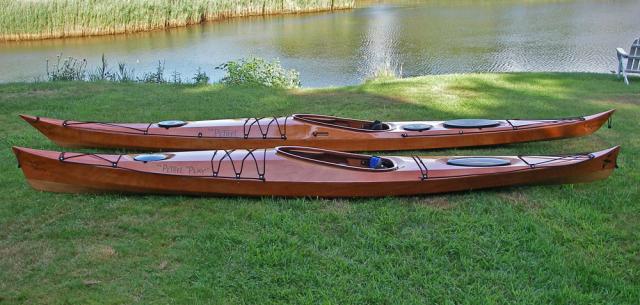 The New Kayaks are Done!
I haven't put them in the water yet and won't for a few more days. I'm exhibiting at the Maine Boats Homes and Harbors Show this weekend and want to bring them as pristine boats until after the show. But they are now done.
I'm really happy with the way they came out. I used a little bit of stain to give the okoume some color but kept it simple. The only adornment is some cut-vinyl graphics that I had CLC produce for me.
More About the Boats
S&G Petrel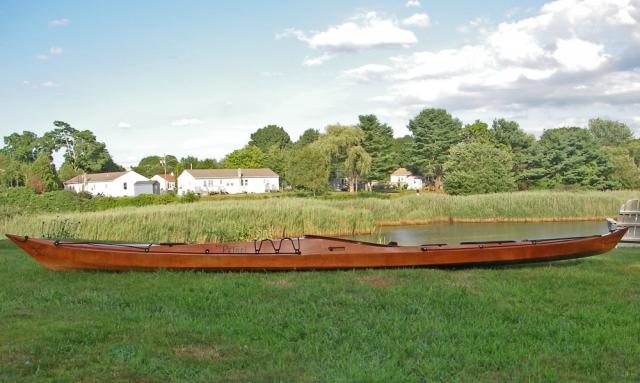 The Stitch and Glue Petrel is as faithful a reproduction of the original strip-planked Petrel as I could produce with plywood. The profile and plan shape are the same and the transitioning chine shape of the stripper is reproduced by being mult chined in front of the cockpit and single/hard chined behind.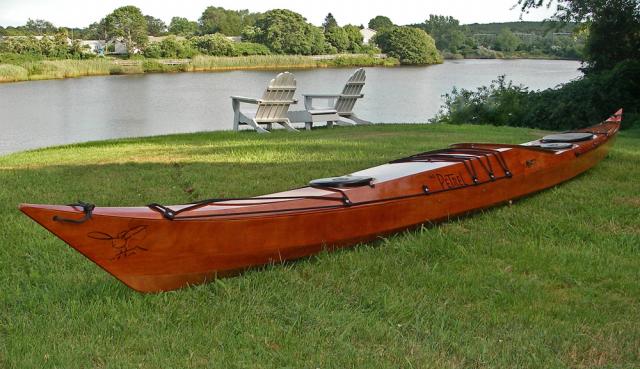 I decided to go full British BCU style with recessed rubber VCP hatches including a day hatch behind the cockpit and a retractable skeg.
Petrel "Play"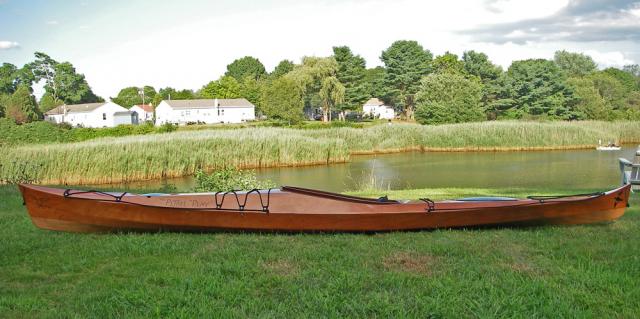 There is a bigger market for recreational kayaks than there is for sea kayaks, so in the interest of sound business practice I wanted a boat that would appeal to a larger market segment. But, I am personally not all that interested in sedate paddling trips, so I developed something I though I could have fun with. The Petrel "Play" should be a great play boat out in big waves and rock gardens. It is 14' long with a long waterline and 23" wide with quite a bit of flare. It should keep up fine at moderate pace cruising and have good stability in waves, with the ability to lean comfortably.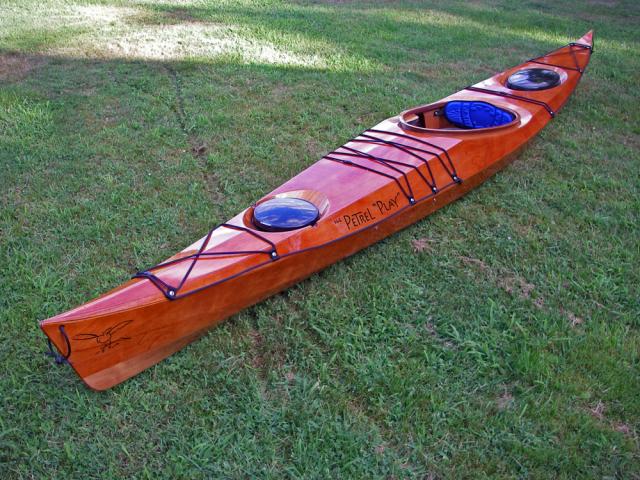 When Will it be Available?
After the show I will do a week of sea-trials/product-testing (i.e. vacation) in Maine. After that I will need to make any modifications I feel are required to tweek that design. Then I need to go through the several thousand photos I took while building the boat and create a set of instructions. This will not be a trivial design to build. There are several tricky aspects to the build with several PMLBs (Pieces Most Likely to Break) making up the hatch recesses. The instructions will have to be fairly explicit, and I'm not sure how a DIY builder would do some of it at home without a CNC cut kit.
This will all take a while so to give you a definitive answer on availability I will say the plans and kits should be done within the next decade plus or minus 9 years and 10 months.