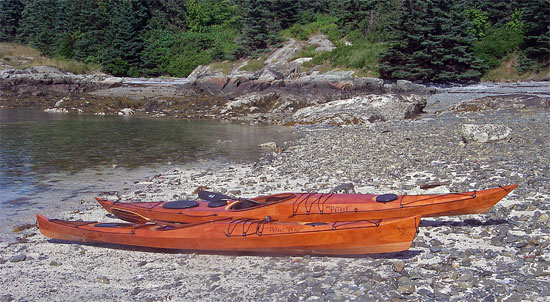 I've been paddling the prototypes for about a year now and the designs are everything I had hoped for. The Petrel SG is a great stitch and glue adaptation of my popular strip-planked Petrel design. The Petrel Play SG is a fun cross over between a recreational and sea kayak.
With recessed rubber hatches including an accessible day hatch, a reliable retractable skeg and an efficient classic design, the Petrel SG is the first no-compromise, full-on British style sea kayak in the BCU tradition. If you want a dependable, responsive, fast and efficient sea kayak for multi-day trips or exploring tide races and rips, the Petrel SG will not let you down.
The Petrel Play is a different animal. At 14' [4.26 m] long by 23" [58 cm] wide it would seem to fall squarely in the recreational kayak category. And in fact it is a great platform for casual relaxed paddling. But, with a roomy but fitted cockpit, and responsive performance, it is a great rough water and surf play boat.