Note:
As of February 2012, the Kindle files should be updated so the issues discussed below no longer apply. If you continue to experience readability issues with you Kindle additions of The Strip-Built Sea Kayak or Building Strip-Planked Boats, please try reloading the books from Amazon. If you see any other problems, please let me know.
I have recently been receiving emails from people who have purchased Kindle versions of my books from Amazon.com. The reason they were writing is because they were can not read the offset tables for the kayak designs included in the book. I've replied to a review on the Amazon page and added a discussion on Amazon about the problem. These tables are a whole bunch of numbers which are used to "loft" or graph out the full sized drawings for the forms. With these tables a reader should be able to create the forms patterns they need to build the boat. They are a valuable part of the book because otherwise the readers would have to pay $90 to $110 to purchase the plans from me. Unfortunately, when they try to read the tables they find them illegible. The tables are blurry and zooming in does not improve the matter.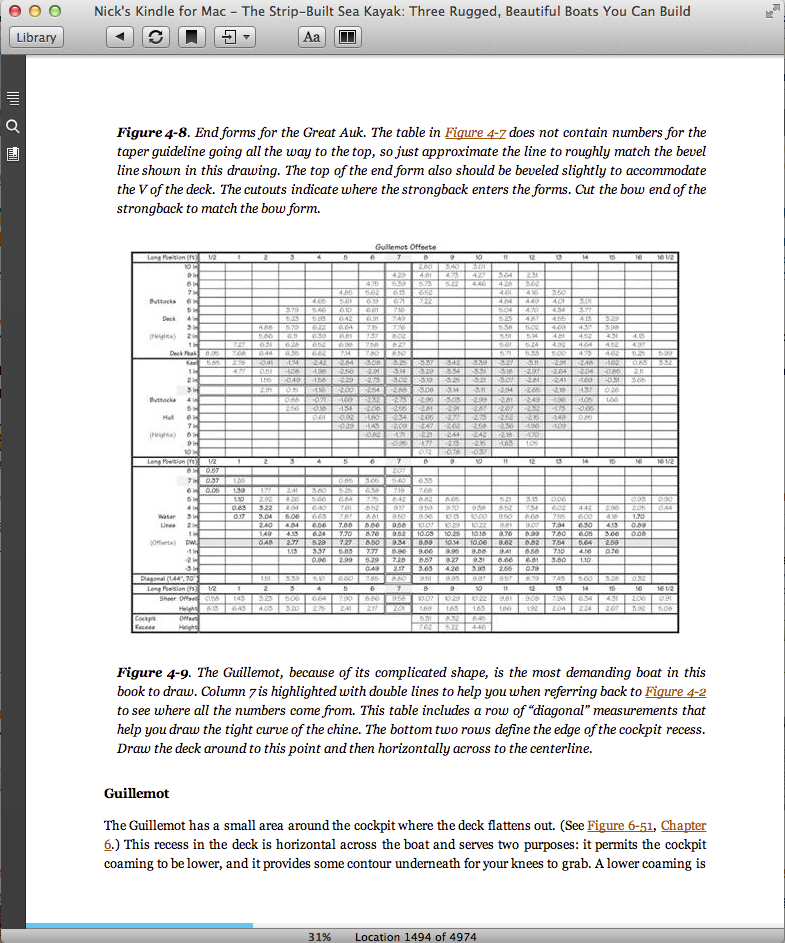 After getting several of these complaints and trying to have my publisher and Amazon fix the problem I recently installed the Kindle App on my Mac and bought copies of my book. The the right is what I found (click on the image to zoom in) in The Strip-Built Sea Kayak for the Guillemot offsets. The offset tables are brought in as images, not text tables. This is not surprising as this is how I provided them to the publsher over 13 years ago. When the image is converted to a bit map on the Kindle they didn't do it at high enough resolution to be legible on the screen. These images print fine in the book, while some people may need to put on their reading glasses to read the print book, this does not help on the Kindle. I would not be surprised if this is also a problem on the Nook, but I have not received any complaints yet.
This problem puts me in a pickle. The people are contacting me because they understandably think I may be able to send them the information they need, and they may feel offended if I don't. But, I am trying to earn a living through the sales of my plans and books. I earn as much from a Kindle book sale as I do for a printed one, so I am happy people bought the Kindle version. But, some people are buying the books specifically for the offsets provided. Obviously, this is a problem if the offsets are not legible, but it points to another problem for me if I send them a set of offsets. An emailed copy of the offsets can be forwarded, it can be copied and printed and shared with friends. In general people are honest, but all it takes is one copy to get out in the wild and they may show up on one of the scammy "500 Boat Plans for $50" websites.
While this is not a complete deal breaker for me, I would happily send a copy of the offsets if I had messed up somehow, it would be much better for me if Amazon provided a version of my product that was not faulty. Amazon is a big company with lots of resources, it should not be my place to fix their faulty product. If the Kindle appropriately displayed the images so they could be read and used by their customers I would not be put in the place of being asked to potentially impacting my livelihood. I could lose book and plans sales because someone emails me saying they bought a Kindle - which I have no way to actually confirm - and asking for a copy of the offsets.
I have complained to my publisher (international Marine/McGraw-Hill) and asked them to fix the problem. They say they have sent new PDF files to Amazon and when the problem persisted they were going to send them new, bigger files of the images in question. As of today, the images are still not legible.
I have navigated the maze that is the Amazon phone support system and complained to them. They acknowledge the problem and say my publisher needs to act to fix the problem by sending Amazon new PDF files. I don't see a whole lot happening. After all I am certain the PDF files the already received were high enough resolution that if you were to print them out on your local ink jet printer the tables would be legible. There is a basic technology problem of installing high resolution image files in a small enough file format that you can efficiently transfer the book over a cell phone connection. This file must also be displayed on a relatively small screen with somewhat limited resolution and grey scale levels.
The nice woman I talked to at Amazon was understanding and acknowledged the problem. I pointed out that book purchasers may go some time before they decide to use the offset tables and find that they are faulty. The return policy on Kindle Books is 7 days. This may expire before readers discover the issue. The Amazon representative told me that their Kindle customers would be entitled to a refund even after 7 days. I'm sure this would require a long walk through the phone support maze. Just finding the Amazon support contact page is a major feat: Amazon.com - Contact Us
In reviewing the Kindle version of the books I did find that there was a mechanism for reporting problems with the book. On the Mac version I was able to click on things and bring up a definition and menu, under a sub menu was an option to "Report a Content Error". I went through both books and marked each figure that was not legible with one of these reports. It may help if more people did this, and may help the case of a customer seeking to return the book beyond the 7 day limit.
It is frustrating to me because I know I come off as a bit of jerk for not providing immediate satisfaction to readers coming to me for help. I don't like passing the buck and sending people into Amazon support limbo, but I also don't like taking the hit so a big corporation like Amazon can continue to sell a faulty product.
My best recommendation is to not purchase the Kindle versions of "The Strip-Built Sea Kayak" or "Building Strip-Planked Boats" unless all you want to do is read them and not use the offsets. I would like it if you would buy the soft cover versions instead, but they do cost you more.
Update (Feb 2012)
Currently the Kindle versions of my books are unavailable on Amazon. This should keep more people from experiencing this problem. McGraw-Hill is attempting to provide legible files for the offsets. With any luck this will fix the problem for those who have already purchased the Kindle version.