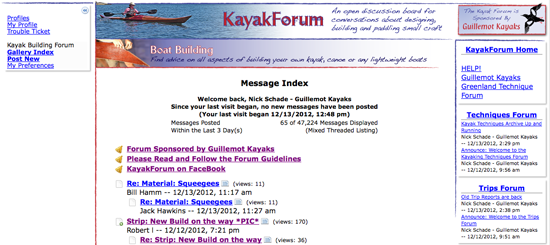 I have recently been going through the process of upgrading the software for the KayakForum. For those who are not familiar with it, the forum is an open discussion board devoted to the design, building and use of kayaks and other small boats.
For awhile the design, techniques and trips section have been quiescent because I could not manage the moderation requirements. Due to the improvements of the new software I decided I could revitalize them. I also reconstituted the archives.
The KayakForum has really created a wonderful community of paddlers and boatbuilders all around the world. Users of the board have become fast friend, visiting each other around the country and finding welcome when they travel overseas. We have even had a marriage after an introduction on the board.
This is a work in progress, but I hope you like the results.