Sponsored By Chesapeake Light Craft


This five day event features the East Coast's finest sea kayaking and highlights a chance to try the amazing wooden kayaks by Nick Schade in the conditions they were designed for.  
On the east side of Frenchman Bay, away from the bustle of Bar Harbor, lies a largely forgotten piece of Acadia National Park, Schoodic Point. Exposed to the open swell, with rugged rocky shorelines, steep storm racked cliffs and spectacular scenery, it is hard to imagine a finer body of water to explore in a sea kayak.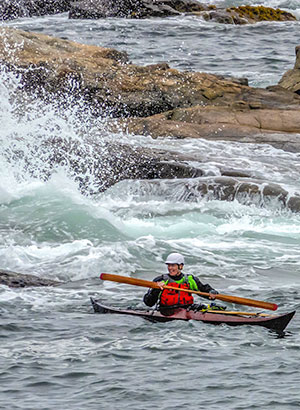 Under the expert leadership of experienced sea kayaking instructors and guides, you will discover why you love kayaking all over again. Nick Schade and Gerry Polinsky assisted by Barb Todd, Joey Schott and other to be determined, will lead you along amazing shore lines, across beautiful harbors and around spectacular islands where you can either bask in the glory of it all, or expand your skills, while exploring fantastic rock gardens, sea caves, slots and off shore ledges.  With the five-day format, all paddlers will have the opportunity to experience the renowned Sullivan Reversing Falls (aka white water for sea kayaks).
A well received and unique aspect to this event is the non-paddling participant program. Friends and significant others are welcome and there is plenty of local adventure to keep them occupied while you are on the water including spectacular hiking, trail biking (rentable bikes), art galleries, taking a ferry over to explore Acadia Park, shop in Bar Harbor and, most fun, throwing rocks at paddlers from the scenic cliffs around the Schoodic Peninsula.  There will be a good number of non-paddlers so it will be easy for them to find folks to adventure with.
This is a Monday to Friday affair.  Given all this spectacular area has to offer, there will be options to add day(s) at the institute before or after the event proper to allow for local exploration. 
Off Water Activities
There will be a number of dryland presentations and events aimed at both paddlers and non-paddling participants. Past programming included  a night sky tutorial by an avid amateur astronomer, and a Bar Harbor formal garden tour led by knowledgeable landscape designer and, a Maine state naturalist presenting on the state's bald eagle program.
Boat Demonstrations
Nick and Gerry are most excited to be able to offer a chance for everyone to try out Nick's Guillemot Kayaks in actual conditions. His light weight and durable designs are renowned for their open water performance and playful action.  This is a rare opportunity to experience Nick's boats' exceptional capacity in their intended environment - without having to build one yourself.

This year, there will be a number of the final version of the Petrel Play.  Designed by Nick and built by Joey's company, Turning Point Boatworks this kayak is a true "quiver killer".  Super stable, 14' long but paddles as fast as an expedition kayak, insanely lightweight (40lbs for the expedition model) but as burly as any expedition built brit boat, has enough volume for a 4 day camping trip, offers options for custom artwork and a wide choice of deck heights so can comfortably fit just about any paddler.  There will be a few of these amazing new boats available for folks to be able to give them a go.  Note:  If you want to have the ideal boat for Schoodic before you arrive, Joey now has these Petrel Plays in full blown production.  If interested in a demo opportunity before Schoodic, reach out to Joey, Nick or Gerry.
Beyond Nick and Joey's boats, Gerry also has a selection of interesting commercially available designs from other manufacturers and other participants bring their own quiver of kayaks. This can give you a chance to see other designs in action and we can arrange boat swaps to give you an opportunity to experience a wide variety of kayak designs.
Sea Kayaking
The Schoodic Retreat allows paddlers of a wide range of experience from advanced beginner to advanced open water paddlers a guided exploration of the fantastic surroundings and, to the degree individuals are interested, hone their rough water skills through individualized instruction. Participants will have the opportunity to paddle with "pods" of similarly experienced kayakers.
Pod 1 is geared to advanced beginners to open water paddling looking to play and explore in a fantastic setting. Skilled instructors will help you integrate your experiences into comfort on open water.


Pod 2 is for those that have more time in rough water. This is your opportunity to push your boundaries and expand your skills under the watchful eye of experienced instructors.
Pod 3 is a long leash, hard-charging, play opportunity and "top tips" style coaching appropriate to your goals and needs. 
Our base of operations for the will be the Schoodic Institute. Originally created by John D. Rockefeller Jr. for the Navy so they wouldn't ruin his vacation over in Bar Harbor, the site served as a Naval radio station and security listening post from 1933 until 2002. Surrounded by water and with easy walks to amazing ocean views and beautiful hiking trails through the woods, the Institute has a mission to advance ecosystem science and learning.
The institute features comfortable apartments and a hearty food service on site. The campus itself is beautiful with a historic brick main building, log cabin cafeteria featuring individual great rooms for dining, meandering foot paths and easy walking access to Schoodic Point. After a day on the water you will be able to get back and relax with a nice meal, and maybe a beautiful sunset before hitting a warm bed.
It is our goal to provide an enriching experience. Our hope is you return home energized by what you see, learn and do at this retreat. With coaching staff to provide a safe and instructional time on the water, a free-form journey of exploring, skills learning, and active water play will be the itinerary each day. We will provide individualized instruction as desired to improve your ability to appreciate the experience. We work to allow you to use the skills you have, and develop new skills while sea kayaking in awesome surroundings. And at the end of the day, enjoy a relaxing debrief over a nice meal and drink. There will be suitable challenges available for all levels of kayakers from simply learning to navigate across a harbor to practicing seal landings in surging rock gardens. This will be super fun and fruitful break from routine in a magnificent setting.
Your Hosts: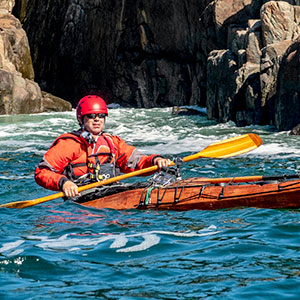 has been kayaking for over 40 years. He started designing and building high performance wooden sea kayaks over 30 years ago specifically to enjoy the waters and coastline of Frenchman Bay and Schoodic. Nick brings a rich knowledge of how kayaks work and how they interact with the natural environment.
Through his company Guillemot Kayaks, Nick has spread his passion for kayaking and making kayaks to thousands of boat builders worldwide. While beautiful, these kayaks are built to use. Over the years, he has found that he can make wooden kayaks that are lighter and stronger than standard production composite boats.
Nick will bring a selection of his high performance wooden kayaks for the weekend for people to test and abuse. This is a great opportunity to experience how a high performance wooden kayak handles in the exact environment they were designed for.
Nick is a largely self-taught kayaker who has been bringing paddlers of all levels out onto the water for decades. He has written articles on sea kayaking techniques for the late great Sea Kayaker Magazine. He is a registered Maine Guide because thats needed for this kind of thing, but he is doing this for the love of kayaking.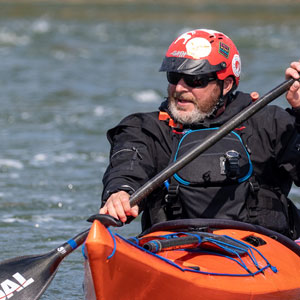 Coming from a background of winter mountaineering and guiding, Gerry embraces the high adventure potential in sea kayak coaching. He takes advantage of his local waters, frequently paddling in rocks, surf and races.


Gerry started Sea Sherpa Kayaks in 2009 and has continued to focus on his own certifications which now include ACA L5 Advanced Open Water Instructor, BCU 5 Star Leader (now Advanced Sea Kayak Leader) and is a registered Maine Guide. He has completed multi day tours including the Bay Of Fundy, Baja, the entire outer coast of Vancouver Island and much of the Maine from mid coast to the Canadian border. His traveling instructional tour de force includes working on symposium and courses, all over the Northeast, Tybee Island, San Francisco, Baja and the Pacific Northwest.


Gerry prides himself on his coaching in active open water conditions, most especially, the work he has done introducing paddlers to their first taste of active paddling. He creates a drama free zone through an individualized approach and keeps the chest pounding to a minimum.
The Gerry & Nick Story:
Nick and Gerry having been frequent paddling partners in crime for the last decade: Rocks gardening, shore surf and working tide races. Their backgrounds couldn't be more different with Nick entirely (and uniquely) self-taught while Gerry is more "classically" trained by other coaches and following a certification progression. Their approaches, to both paddling and presentation are simultaneously contradictory and complimentary.
---
Co-Coaches
Gerry and Nick are very excited to have recruited some very able paddlers to assist, instruct, coach and lead with us during the retreat.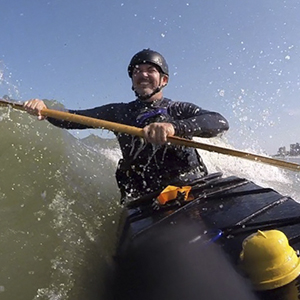 Joey Schott got his start kayaking nearly twenty years ago while on vacation in Bar Harbor. He loved it so much that he started building kayaks as a hobby. In 2009 he became Sales Manager at Chesapeake Light Craft. It was Nick who introduced him to Rough Water Sea Kayaking and he has not been the same since.

In 2014 he branched out on his own by opening his shop, Turning Point Boatworks, specializing in custom builds of small boats in both wood and composite. (He will bring his light and tough composite Petrel Play!) He currently holds an ACA L4 Coastal kayaking instructor certification along with a rolling endorsement. He still considers himself a student of the sport, always learning and pushing his limits. With his experience at Chesapeake Light Craft Joey is very knowledgeable about wood kayaks. He will be bringing several kayaks from the CLC stable as well as his own work from Turning Point for participants to play with.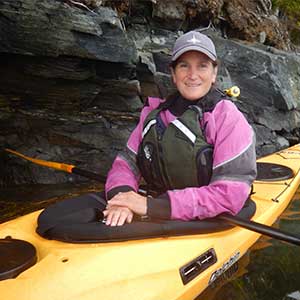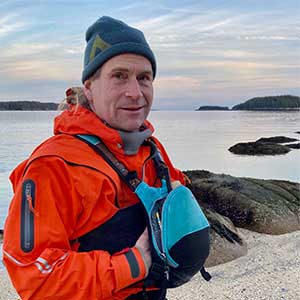 Rebecca and Michael Daugherty run Sea Kayak Stonington and know the Downeast waters well. Rebecca is an artist who draws inspiration for paintings, prints and drawings from her experiences sea kayaking, Rebecca is a patient instructor, L3 Coastal Kayak Instructor, L1 Canoeing Instructor and Registered Maine Sea Kayak Guide.
After moving to Stonington to open an art gallery in 2003, Michael got into sea kayaking and discovered what would make him stay. He has since taught and guided sea kayaking for more than a decade and written 2 or 3 sea kayaking books, most recently Upwest & Downeast: Meandering the Maine Coast by Sea Kayak. He is an L4 Open Water Sea Kayak Instructor and a Registered Maine Sea Kayak Guide.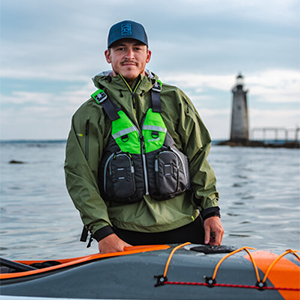 Born in New York's Hudson River Valley, Jonathan Oltz has spent most of his life in and around water.  As a child he was often in open canoes but didn't discover sea kayaking until 2011. Since then he has spent as much time as possible on the water. In 2013, Jonathan and his wife Kelsey founded Sea Kayak New England which focuses on an individualized approach to learning.  He has paddled in Pembrokeshire Wales, Canada and much of the New England Coastline.  As he has grown in the sport he has continued to rise through the ranks of British Canoeing as a Sea Kayak Coach and recently becoming a provider for British Canoeing Awards.  Jonathan continues to grow as a coach each time he is on the water.  Jonathan's approach to coaching is fun, simple, and exudes enthusiasm.  Jonathan is excited to meet new paddlers and share his passion for the sea.
---

Accomodations:
Schoodic Institute is located on Big Moose Island which forms the headlands of Schoodic Peninsula. This former Navy station had apartments for officers and families which now serve as comfortable accommodations for Institute guests. 
The chefs at the Institute strive to cook with fresh, locally sourced ingredients. Soups, dressings, sauces and baked goods are prepared from scratch daily. 
Special Dietary needs: The chefs are happy to accommodate the allergies and dietary restriction of the guests.
Cost:
Event Pricing:
| | |
| --- | --- |
| Paddler: Four days of paddling (or five if you are hardcore) plus room and board at the Schoodic Institute. | $1,550 |
| Non-Paddler: Room and board at the Schoodic Institute in Acadia National Park plus access to off-the-water programming. | $925 |
The price includes on the water instruction and guiding by Registered Maine Guides, 5 nights and 5 days stay at Schoodic Institute, meals provided (Monday breakfast through Saturday breakfast, bag lunches during the day and hearty dinner at night with a Celebratory Dinner one night:  option of lobster, steak or vegetarian). Arrive the afternoon of Sunday, September 19th to check in, on the water daily Monday through Friday and checking out Saturday the 25th. We can customize accomodations if desired, just ask.
More Information
For details about what you will need to enjoy the event, what kind of gear you will want, and more stuff about accomodations, please read our Schoodic Retreat Gear List and Other Information.
Registration & Payment:
To sign up for this event we will first need you to fill out our Registration Form. In this form we gather information to assure you have a fun, safe event. We will then ask for payment for the full cost of the event. Receipt of this payment will reserve your spot. Please fill out and submit the registration before sending your payment.
More Information:
If you have any questions or would like to receive more information, Contact Us.