Get away from the crowds into the East Coast's best sea kayaking and try some amazing wooden kayaks.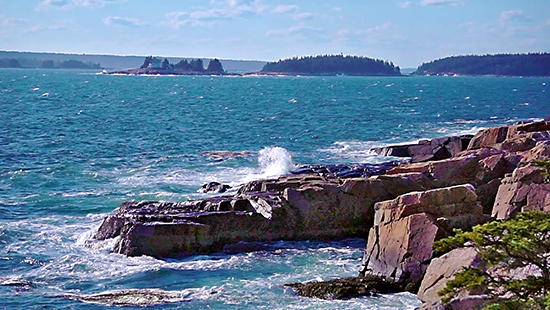 Hang a left down Route 1 from Ellsworth and the crowds dissipate, but you are navigating towards some of the finest kayaking on the east coast.
On the east side of Frenchman Bay, away from the bustle of Bar Harbor, lies a largely forgotten piece of Acadia National Park, Schoodic Point. Exposed to the open swell, with rugged rocky shorelines, steep storm racked cliffs and spectacular scenery, it is hard to imagine a finer body of water to explore in a sea kayak.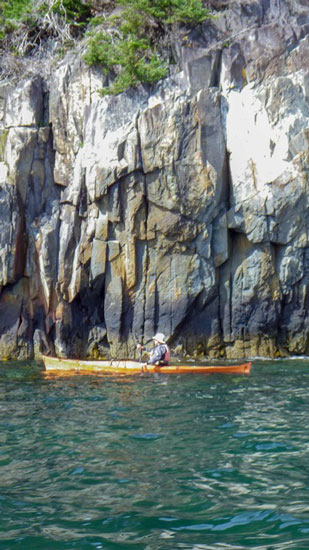 Under the expert leadership of  experienced sea kayaking guides you will discover why you love kayaking all over again. We will enable you to relish the feeling of being in the environment in a way only available in a small human powered kayak. Nick Schade, Gerry Polinsky, David Santaniello and Joey Schott will lead you along amazing shore lines, across beautiful harbors, to paddle around spectacular islands where you can either bask in the glory of it all, or expand your skills while exploring rock gardens, sea caves, and off shore ledges.
The Schoodic Retreat will feature two complementary ways to enjoy the event suitable for those either seeking: an introduction to open water sea kayaking; or to hone their rough water kayaking skills through individualized coaching.
Pod 1 is geared to advanced beginner to intermediate open water kayakers looking to play and explore in a fantastic setting. There will be the ability to set your own level of adventure, but you should be prepared to paddle several hours at a stretch on open water with the possiblity of some wind and waves. Skilled instructors will help you integrate your experiences into improved skills.
Pod 2 is for those that may have more time in rough water and are seeking more active coaching to improve their skills. The Schoodic waters offer fantastic rock gardening, pour-over shelves, slots and sea caves and access to nearby reversing falls (aka "whitewater for sea kayaks"). In other words, plenty of features to expand your skills under the watchful eye of experienced coaches.
Both pods will enjoy days that combine instruction, exploration and open water play. Given appropriate comfort in the conditions paddlers are free to jump between the two pods as they wish. Both groups will be about enjoying the exceptional Down East Maine coastline while integrating your sea kayak skills in real open water conditions. And, at the end of the day, relaxing in a quiet part of one the countries favorite National Parks.
Our base of operations for the will be the Schoodic Institute out on the headlands of Schoodic Peninsula. Originally built by John D. Rockefeller Jr. for the Navy so they wouldn't ruin his vacation over in Bar Harbor, the site served as a Naval radio station and security listening post from 1933 until 2002. Surrounded by water and with easy walks to amazing ocean views, the Institute has a mission to advance ecosystem science and learning. And they have comfortable apartments and food service on site.
Guillemot Kayaks designs are renowned for their open water performance and playful action maneuvering amongst the features of the local islands. Nick will bring a selection of these wood kayak designs that will be available for participants to paddle and experience in their intended environment. This is a great opportunity to learn more about the characteristics of these lightweight rugged kayaks while using them in real world conditions.
After a day on the water we will be able to get back and relax with a nice meal, and maybe a beautiful sunset before hitting a warm bed.
We want to provide an enriching experience. Our hope is you return home energized by what you see, learn and do at this retreat. With coaching staff to provide a safe and instructional time on the water, a free-form journey of exploring, skills learning, and active water play will be the itinerary each day. We will provide individualized instruction as desired to improve your ability to appreciate the experience. The goal is to allow you to use the skills you have, and develop new skills while sea kayaking in awesome surroundings. And at the end of the day, enjoy a relaxing debrief over a nice meal and drink. There will be suitable challenges available for all levels of kayakers from simply learning to navigate across a harbor to practicing seal landings in surging rock gardens. This will be super fun and fruitful break from routine in a magnificent setting.
Your Hosts: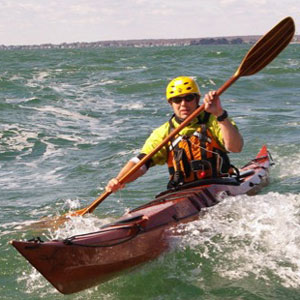 has been kayaking for over 40 years. He started designing and building high performance wooden sea kayaks over 30 years ago specifically to enjoy the waters and coastline of Frenchman Bay and Schoodic. Nick brings a rich knowledge of how kayaks work and how they interact with the natural environment.
Through his company Guillemot Kayaks, Nick has spread his passion for kayaking and making kayaks to thousands of boat builders worldwide. While beautiful, these kayaks are built to use. Over the years, he has found that he can make wooden kayaks that are lighter and stronger than standard production composite boats.
Nick will bring a selection of his high performance wooden kayaks for the weekend for people to test and abuse. This is a great opportunity to experience how a high performance wooden kayak handles in the exact environment they were designed for.
Nick is a largely self-taught kayaker who has been bringing paddlers of all levels out onto the water for decades. He has written articles on sea kayaking techniques for the late great Sea Kayaker Magazine. He is a registered Maine Guide because thats needed for this kind of thing, but he is doing this for the love of kayaking.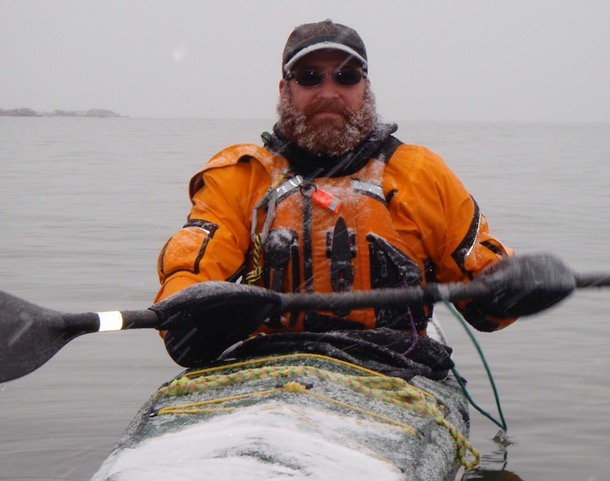 Coming from a background of winter mountaineering and guiding, Gerry embraces the high adventure potential in sea kayak coaching. He takes advantage of his local water frequently paddling in rocks, surf and races.
Gerry started Sea Sherpa Kayak in 2009 and has continued to focus on his own certifications which now include ACA L5 Advanced Open Water Instructor, BCU 5 Star Leader (now Advanced Sea Kayak Leader) and is a registered Maine Guide. He has continued multi day tours including the Bay Of Fundy, Baja, the entire outer coast of Vancouver Island and much of the Maine from mid coast to the Canadian border. His traveling instructional tour de force includes working on symposium and courses, all over the Northeast, Tybee Island, San Francisco and the Pacific Northwest.
Gerry prides himself on his coaching in active open water conditions, most especially, the work has done introducing paddlers to their first taste of active conditions. While the thought of open water can be intimidating to the uninitiated, Gerry often says "no one goes to an amusement park for the food". He creates a drama free zone through an individualized approach and keeps the chest pounding to a minimum.
The Gerry & Nick Story:
Nick and Gerry having been frequent paddling partners in crime for the last decade: Rocks gardening, shore surf and working tide races. Their backgrounds couldn't be more different with Nick entirely (and uniquely) self-taught while Gerry is more "classically" trained by other coaches and following a certification progression. Their approaches, to both paddling and presentation are simultaneously contradictory and complimentary.
---
Co-Coaches
Gerry and Nick are very excited to have recruited some very able paddlers to assist, instruct, coach and lead with us during the retreat.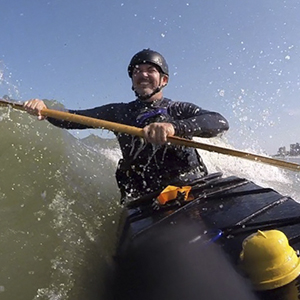 Joey Schott got his start kayaking nearly twenty years ago while on vacation in Bar Harbor. He loved it so much that he started building kayaks as a hobby. In 2009 he became Sales Manager at Chesapeake Light Craft. It was Nick who introduced him to Rough Water Sea Kayaking and he has not been the same since.

In 2014 he branched out on his own by opening his shop, Turning Point Boatworks, specializing in custom builds of small boats in both wood and composite. He currently holds an ACA L4 Coastal kayaking instructor certification along with a rolling endorsement. He still considers himself a student of the sport, always learning and pushing his limits. Joey will be officially representing Chesapeake Light Craft at the retreat. He will be bringing several kayaks from the CLC stable as well as his own work from Turning Point for participants to test paddle.
David Santaniello was immediately drawn to the sea after moving to Santa Cruz, CA and soon realized that paddling would be the best way to interact with the awe-inspiring coast line. California offers world class rock gardens for paddlers to explore, and David regularly challenges himself in these dynamic environments along with the rest of the Neptune's Rangers crew. David is an ACA Level 5 Advanced Sea Kayak Instructor and British Canoeing Sea Kayak Leader and Paddlesport Instructor. He is fortunate to be able to share his passion for being on the water and heads the Instructional Program at Kayak Connection. David also regularly coaches at symposiums along the west coast. His main goals as a coach are to assist others in becoming more comfortable and confident on the water. David looks forward to working with students at all stages of development and focuses on delivering personalized coaching sessions.
---

Accomodations:
Schoodic Institute is located on Big Moose Island which forms the headlands of Schoodic Peninsula. This former Navy station had apartments for officers and families which now serve as comfortable accommodations for Institute guests. There are a variety of single and double occupancy rooms which share bathrooms as well as a kitchen, dining and living room. If you desire more privacy, there are luxury apartments available in the stately Rockefeller Hall.
Meals are provided at Schooner Commons. The chefs strive to cook with fresh, locally sourced ingredients. Soups, dressings, sauces and baked goods are prepared from scratch daily. In addition to a "chef's choice" hot entree, guests at lunch and dinner are invited to prepare their own salad from our salad bar furnished with fresh vegetables and hearty proteins.
The talented and friendly staff at Schooner Commons prepare and serve three meals each day to guests. Bag lunches will be provided for days when we are out on the water. 
One evening will feature a traditional Maine Lobster Dinner
Dietary needs: To the capacity they are able, the chefs accommodate the allergies and dietary restriction of the guests. It is imperative that we are made aware of any and all special dietary needs in advance of your visit. If you have a restricted diet we recommend you bring food with you to supplement your diet. 
Again, there is a fully equipped kitchen at the apartments to store and prepare any food or beverages you should care to bring.
Alternatives:
If you would like to bring a friend, or maybe one day you just want to do something different, or you may want to extend your stay in the area, there are hiking, biking and shopping options. We will be based in the heart of the Schoodic Point section of Acadia National Park. There are a variety of hiking and biking trails accessible from Schoodic Institute. A shuttle bus makes the rounds of the park with runs to the gorgeous, brand new Schoodic Woods National Park Campground as well as the nearby fishing villages of Prospect Harbor and Winter Harbor where you can find site seeing and some fun, interesting small shops with crafts by local artisans. The shuttle will also connect you with the passenger ferry to Bar Harbor. This ferry follows a beautiful route through the islands we will explore with kayaks and Bar Harbor is full of options to shop and connect with even more hiking and the park shuttles on Mt Desert Island.
Cost:
The price includes on the water guiding by Registered Maine Guides, 3 nights and 3 days stay at Schoodic Institute, meals provided (Friday Breakfast through Sunday Lunch, with Lobster dinner one night). Arrive the afternoon of Thursday, September 27th to check in. On the water Friday, Saturday and the morning of Sunday, September 30th, checking out that afternoon.
 Please Note: Program will run rain or shine. All Non-Paddler Days must be decided at time of registration.
Registration/Contact:
This is a past event don't try to register.