NEW
A guide to constructing small boats with wood strips and epoxy.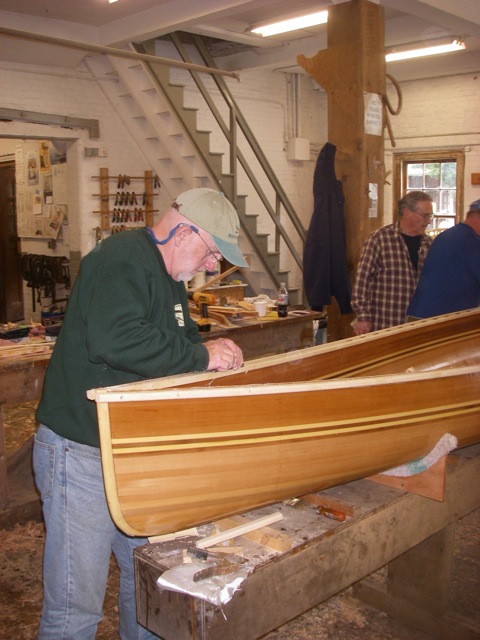 NOTE: If you are thinking of signing up for this class, please do so early. I will need at least 3 weeks notice to be sure to have enough material prepared for everyone. - Thanks, Nick
If you want to build a lightweight, rugged and beautiful small boat then this is the class for you. These two boats utilize the strip building method which combines thin strips of wood with epoxy and fiberglass and will make a car-top-able, low maintenance, and gorgeous vessel. Nick Schade has been building strip-built boats for over 25 years. He has written two of the standard texts on the subject, Building Strip-Planked Boats and The Strip-Built Sea Kayak and his efforts have guided thousands of people through building their own boats using the popular strip-planked method.
In this six-day course, students will explore this method of construction while building two very different boat designs created by Nick. Nymph is a small, extremely lightweight, easy to handle double-paddle canoe in the J. Henry Rushton tradition, but with a modern take. Night Heron, is an elegant, high performance sea kayak design that has found a place in the permanent collection at the Museum of Modern Art. These two boats will provide an excellent overview of the strip-planking process. This will be a busy week with students learning to shape and fit the cedar strips, learn how to handle fiberglass and even get to use some carbon fiber/Kevlar materials which provides extra strength to the boats.
Throughout the week Nick will take time to discuss the many variations on the strip-building process that students can use on their own boatbuilding projects. After a week of fun work we will step back to admire two stunning boats and then get on to the drawing! We worked all week making two boats- now who gets to bring them home (after paying materials of course!) Two lucky students will bring home the boats we worked on all week and will have the pleasure of paddling them for years to come.
Location: Connecticut Valley School of Woodworking, Manchester, CT
Tuition $695.00 (Cost for the boats after class approx. $1,200 for the kayak and $1,000 for the canoe)