Your Hosts: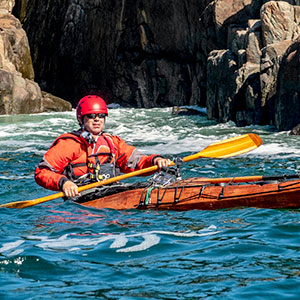 has been kayaking for over 40 years. He started designing and building high performance wooden sea kayaks over 30 years ago specifically to enjoy the waters and coastline of Frenchman Bay and Schoodic. Nick brings a rich knowledge of how kayaks work and how they interact with the natural environment.
Through his company Guillemot Kayaks, Nick has spread his passion for kayaking and making kayaks to thousands of boat builders worldwide. While beautiful, these kayaks are built to use. Over the years, he has found that he can make wooden kayaks that are lighter and stronger than standard production composite boats.
Nick will bring a selection of his high performance wooden kayaks for the weekend for people to test and abuse. This is a great opportunity to experience how a high performance wooden kayak handles in the exact environment they were designed for.
Nick is a largely self-taught kayaker who has been bringing paddlers of all levels out onto the water for decades. He has written articles on sea kayaking techniques for the late great Sea Kayaker Magazine. He is a registered Maine Guide because thats needed for this kind of thing, but he is doing this for the love of kayaking.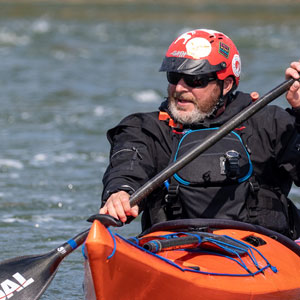 Coming from a background of winter mountaineering and guiding, Gerry embraces the high adventure potential in sea kayak coaching. He takes advantage of his local waters, frequently paddling in rocks, surf and races.


Gerry started Sea Sherpa Kayaks in 2009 and has continued to focus on his own certifications which now include ACA L5 Advanced Open Water Instructor, BCU 5 Star Leader (now Advanced Sea Kayak Leader) and is a registered Maine Guide. He has completed multi day tours including the Bay Of Fundy, Baja, the entire outer coast of Vancouver Island and much of the Maine from mid coast to the Canadian border. His traveling instructional tour de force includes working on symposium and courses, all over the Northeast, Tybee Island, San Francisco, Baja and the Pacific Northwest.


Gerry prides himself on his coaching in active open water conditions, most especially, the work he has done introducing paddlers to their first taste of active paddling. He creates a drama free zone through an individualized approach and keeps the chest pounding to a minimum.
The Gerry & Nick Story:
Nick and Gerry having been frequent paddling partners in crime for the last decade: Rocks gardening, shore surf and working tide races. Their backgrounds couldn't be more different with Nick entirely (and uniquely) self-taught while Gerry is more "classically" trained by other coaches and following a certification progression. Their approaches, to both paddling and presentation are simultaneously contradictory and complimentary.
---
Co-Coaches
Gerry and Nick are very excited to have recruited some very able paddlers to assist, instruct, coach and lead with us during the retreat.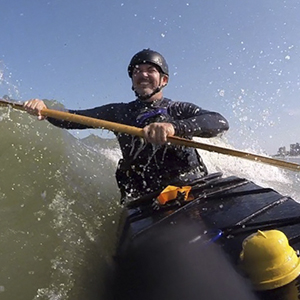 Joey Schott got his start kayaking nearly twenty years ago while on vacation in Bar Harbor. He loved it so much that he started building kayaks as a hobby. In 2009 he became Sales Manager at Chesapeake Light Craft. It was Nick who introduced him to Rough Water Sea Kayaking and he has not been the same since.

In 2014 he branched out on his own by opening his shop, Turning Point Boatworks, specializing in custom builds of small boats in both wood and composite. (He will bring his light and tough composite Petrel Play!) He currently holds an ACA L4 Coastal kayaking instructor certification along with a rolling endorsement. He still considers himself a student of the sport, always learning and pushing his limits. With his experience at Chesapeake Light Craft Joey is very knowledgeable about wood kayaks. He will be bringing several kayaks from the CLC stable as well as his own work from Turning Point for participants to play with.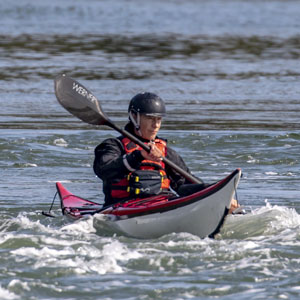 Barb Todd has been an active water paddler for over 15 years. Her kayak adventures have brought to Nova Scotia, Baja California, Wales UK and Iceland as well as many, many locations along the eastern seaboard from Florida through to the Canadian border.
As a coach, Barb has worked alongside some of the most highly accredited "water gods". Events she has worked includes the Downeast Sea Kayak Symposium, the Mid Coast Rendezvous and the renowned Schoodic Retreat. She is a British Canoe Sea Kayak Leader, a Maine Guide - Sea Kayak and has taken discipline specific trainings in forward stroke, surf, rocks and ledges.
Barb is particularly good in leading sea kayakers in dynamic environments that they would otherwise find intimidating: Kind of a pied piper scenario. She loves paddling in active water and is happiest in current play.